The Objects Behind the Glass-Plate Negatives
The EES' Lucy Gura Archive contains a vast array of materials generated from the Society's nearly 140 years of excavating in Egypt and Sudan. Amongst this archaeological archive material are thousands of glass-plate negatives from excavations at sites such as Abydos, Armant, Meir, and more.
In late 2018, the Society raised over £25,000 thanks to generous donations by our supporters, which allowed a team of staff and volunteers to safely rehouse the final 5000 plates from their current home in filing cabinets into conservation grade storage boxes in order to preserve them for future generations.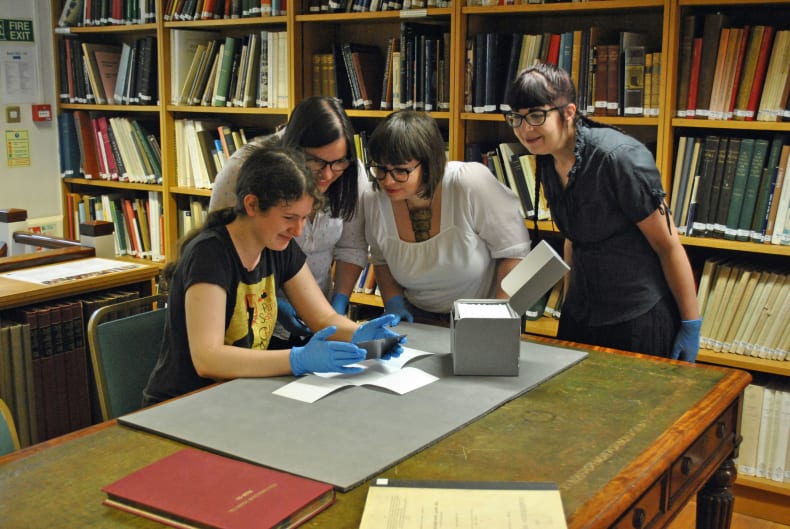 (Left to right) Volunteers Caitlin Jensen, Francesca Kenney, and Adina Iaczko and archive assistant Alix Robinson examining a newly rehoused glass-plate negative.
Three of these volunteers researched the connections between objects in the British Museum Egyptian Sculpture Gallery and the glass-plate negatives taken during their discovery on EES excavations. These objects were brought to the UK and subsequently distributed to institutions and individuals under the French supervised 'partage' system. You can read more about it in Alice Stevenson's book Scattered Finds.
Read Caitlin Jensen's discussion of an unusual stela from Abydos
Read Adina Iaczko's dissection of a reconstructed lintel of Ahmose and Montu from Armant
Read Francesca Kenney's study on the multiple ways to read a block statue from Abydos
How can you support work in our collections?
If you would like to support the Society's Collections, then please consider donating here. Funds generated will go directly to providing conservation and care, and improving access to our collections and will be kept in a restricted fund for this purpose.