Building the Future
Help us to transform the Egypt Exploration Society's London premises into a new centre for Egyptian cultural heritage where people of all ages, needs, and backgrounds can engage with Egypt's unique past.
The challenge
For over 140 years, the Egypt Exploration Society has been at the forefront of supporting and promoting Egyptian cultural heritage. Over that time, we have surveyed and excavated more than 150 different sites and monuments across the northern Nile valley including at Abydos, Deir el-Bahari, Amarna, and Memphis. Thanks to a tradition of generous supporters, the EES has worked to preserve Egypt's history for future generations in a lasting record to be shared with interested audiences around the world. Today we are the only UK institution with a permanent base in Cairo established to support archaeological research and promote its results to diverse and international audiences. Our mission is far from accomplished: in the face of global threats such as the impending climate crisis, the safety of this precious heritage cannot be taken for granted.
Yet while the need for our work grows every day, it is becoming increasingly difficult to continue it. Our unique archives, a lasting record of British-Egyptian relations in the field of archaeology, and our internationally significant collection of papyri, the largest in the world, remain largely inaccessible due to the limitations of our London premises. Structural issues with the building put our users, staff, and irreplaceable collections at risk, and the uncertainty of today's world makes it vital that we find financially and environmentally sustainable ways of securing our future.
We face a great challenge, but we have a plan. Over the next three years this campaign will raise the necessary capital and awareness to allow us to redesign our London premises. This will empower us to fulfil our mission to its fullest potential through accessible and welcoming facilities, proper storage for our unique collections, and new income streams to support our work for years to come. But we need your help to make it happen.
What the EES premises could look like if our Building the Future campaign is successful
Our goals
We will create an accessible, innovative, and environmentally and financially sustainable London base. To achieve these aims, we need to raise the necessary funds to redevelop our premises in Bloomsbury.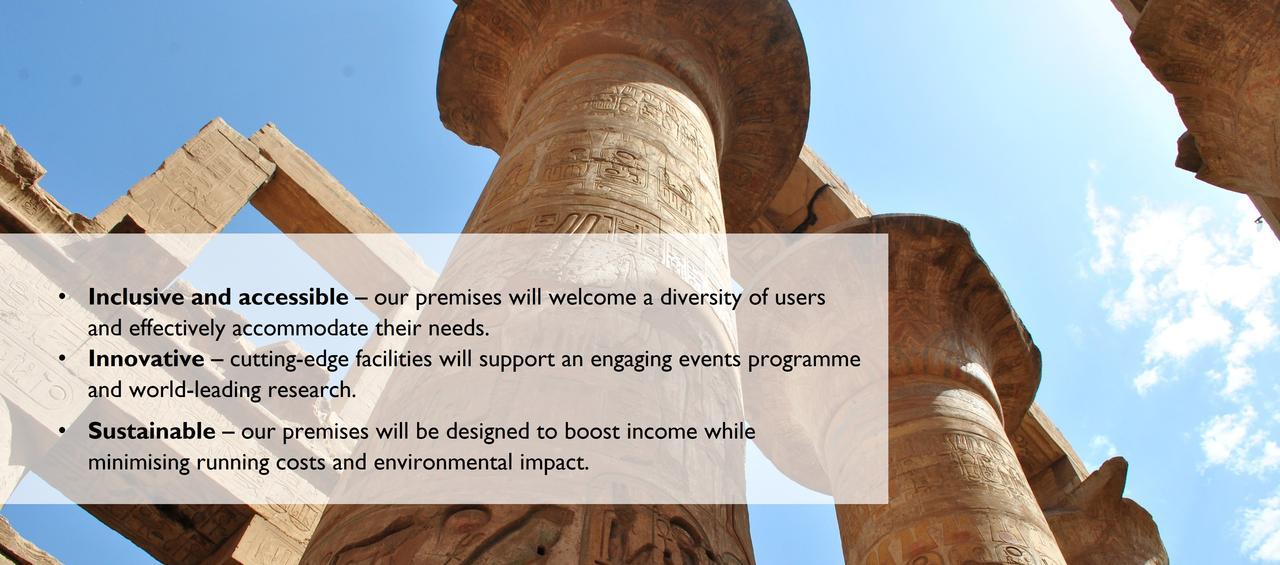 The three pillars of the Building the Future plans
We will work with Studio Becoming, a London-based architect, to develop plans with these three pillars at its core.
The new premises will include:
A ground-floor learning hub to engage interested audiences and school groups (in-person and online) with heritage throughout Egypt. This will be a place for holding public events, building relationships with the local community, and running educational activities. Flexibility will enable the space to be welcoming to those wishing to explore displays of EES collections, use the lending library, or refreshment facilities.
Climate-controlled storage for the Society's unique collections of archive, papyri and cartonnage where they can also be accessed by scholars requiring cutting-edge research facilities.
A dedicated space for the secure storage of our papyri collection will, for the first time, provide an opportunity to develop a centre for the study and research of this material in central London. Estimated to contain over 500,000 fragments, the vast potential of the collection for telling us more about daily life in the ancient world through Greek literary texts, fragments from New Testament gospels, contracts, correspondence, and more has not yet been fully realised.
A subject-specialist library and rare/antique book store to nurture the next generation of Egyptologists.
Accommodation which the Society can let to provide a regular income stream.
A roof garden will offer a space for reflection. In the stressful world we live in, outdoor spaces (rare in central London) will provide a moment to connect with the wider world through educational activities and planting exercises, perfect for children all the way to care givers and those suffering from dementia. Truly a place for lifelong learning.
This regenerated EES will bring Egyptian cultural heritage to wider audiences alongside facilitating pioneering research, offering the social and mental health benefits of heritage engagement as well as world-leading contributions to the field of Egyptology. It will enable the Society to continue its important research in Egypt by safeguarding its financial future.
As we near our 150th anniversary, we have an opportunity to work together toward these goals. If we succeed, then we would gain a base whose facilities and generated income will secure the future of UK Egyptology and enable us to fully realise the Society's mission to support and promote Egyptian cultural heritage.