Welcoming our new Publications Manager
We're delighted to introduce Julia Thorne who joined the EES team in April 2023 as Publications Manager, although not as an EES newbie, having been typesetting books for the Society on a freelance basis for more than a decade. Her responsibilities include managing the scheduling and publication of EES monographs, and working on resurrecting the Society's back catalogue of publications for the digitally run 21st century. Julia has a particular passion for creating publications that are accessible for readers through good, clean, purposeful design and a choice of publishing formats.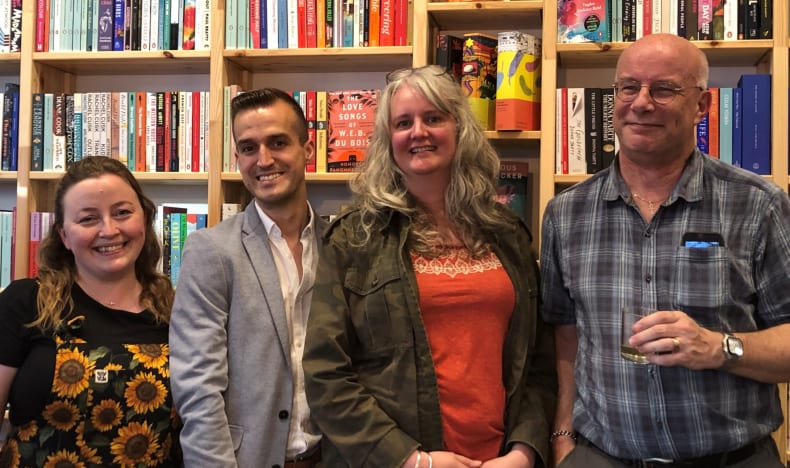 L-R: Dr Anna Garnett, Dr Carl Graves, Julia Thorne, Prof Aidan Dodson. In 2022, Julia typeset the Society's reprint of A Thousand Miles up the Nile by Amelia B Edwards. The book was launched in Bristol on 26th August 2022 where Julia talked about her passion to make this work accessible to modern audiences.
Since 2016, Julia has been photographing ancient Egyptian artefacts and documenting life in and around museums and the heritage we see around us every day; you might know her by her moniker Tetisheri. She has been working with institutions around northwest England, and her photography has been featured in several exhibitions, including the Garstang Museum of Archaeology's Book of the Dead: Passport through the Underworld, and Before Egypt, and Manchester Museum's Golden Mummies of Egypt. Outside of her EES hours, she continues to work on photographic projects, including Tiny Egypt, which explores artefacts from Egypt with a macro lens to showcase details and pieces hard to see with the naked eye.