Voyaging through the pages: Egypt travel magazines in the EES collections
by Guilherme Borges Pires
The history of western Egyptology has often gone hand in hand with the popularity of travel in Egypt. Within a colonial context, several travel magazines were edited to equip wealthy foreign travellers with practical information, while simultaneously contributing to 'market' certain perceptions of visited regions, such as Egypt and the Near East. The EES Special Collections holds an important collection of travel magazines, consisting of 76 items, dating from the 1920s to the 1970s (table of travel magazines in the EES Special Collections). From February 2020 until autumn 2021 (including a hiatus during the COVID-19 EES office closure), I volunteered at the EES, scanning the covers, and analysing the contents and contributors of these magazines.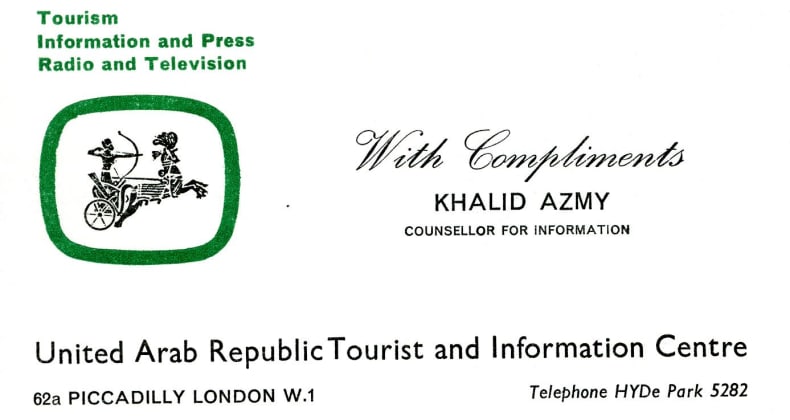 Compliments Card by Khalid Azmy from the United Arab Republic Touristic and Information Centre in London (included in Egypt Travel Magazine 128, 1965).
The roughly 50 years covered by these travel magazines is a particularly important period of modern Egyptian history. In 1922, just a year before the publication of the earliest Egypt and the Sudan issue in the EES collection, Egypt became nominally independent from Britain (although British military remained in the country). Thirty years later the 1952 Revolution resulted in the establishment of the Republic of Egypt in 1953 and the first issue of Egypt Travel Magazine (ETM) came out the following year.
Such political shifts are visible when looking at the cover artists (full list of artists' names). Whereas the artists for Egypt and the Sudan are mainly western (British), with a few notable exceptions such as Zaki, ETM's covers display, primarily, Egyptian artists' work.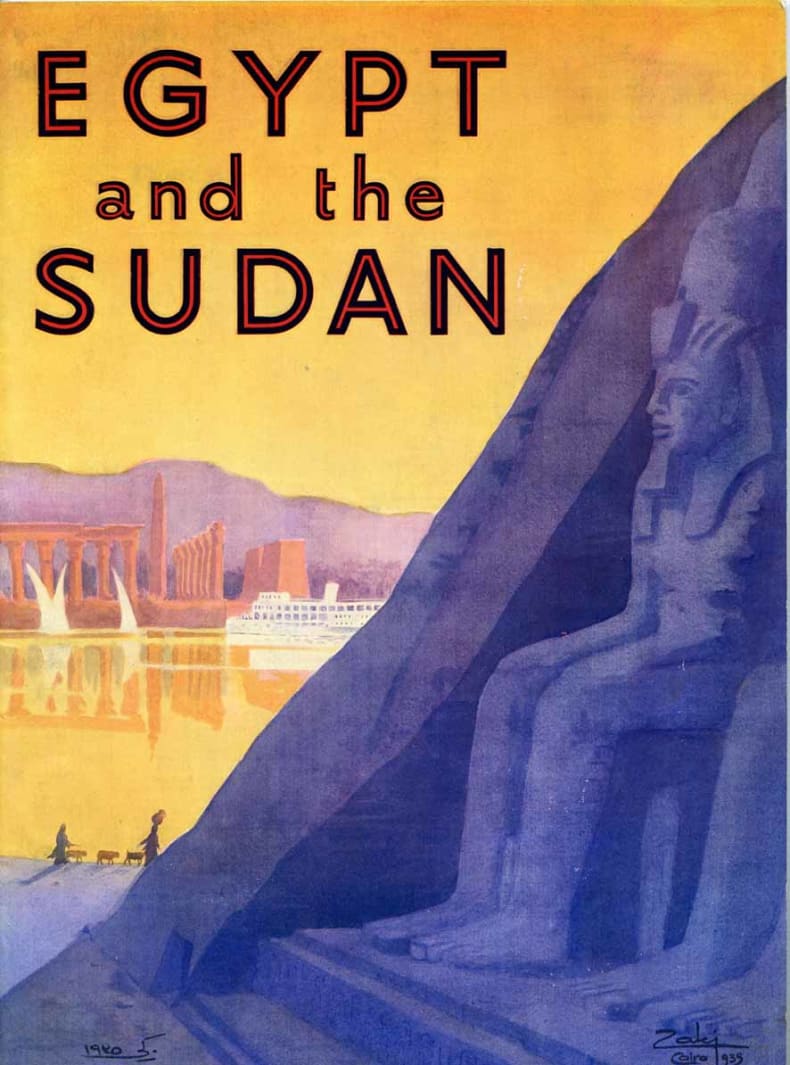 Egypt and the Sudan's cover designed by Zaki (1936).
As for the (mainly) Egyptian artists who produced ETM's covers, a few names stand out. One of those is Hashim who created ETM's first cover in 1954, and later became the Director-General of the Ministry of Tourism's Publicity Department. Commissioning artworks by 'national' creators, Egyptian authorities showcased the country's cutting-edge art scene to foreign/western audiences.
It is interesting to notice evolving trends in the covers' pictures (list of cover themes and topics). Whereas magazines published from the 1920s-30s tend to exhibit an Orientalised image of Egypt's past, ETM's designs capitalise on Egypt's past to promote a modern cosmopolitan country. Frequently underlying Egypt's post-revolutionary 'progress', these covers attest to a permanent dialogue between past and present, differently negotiated according to Egypt's socio-political circumstances.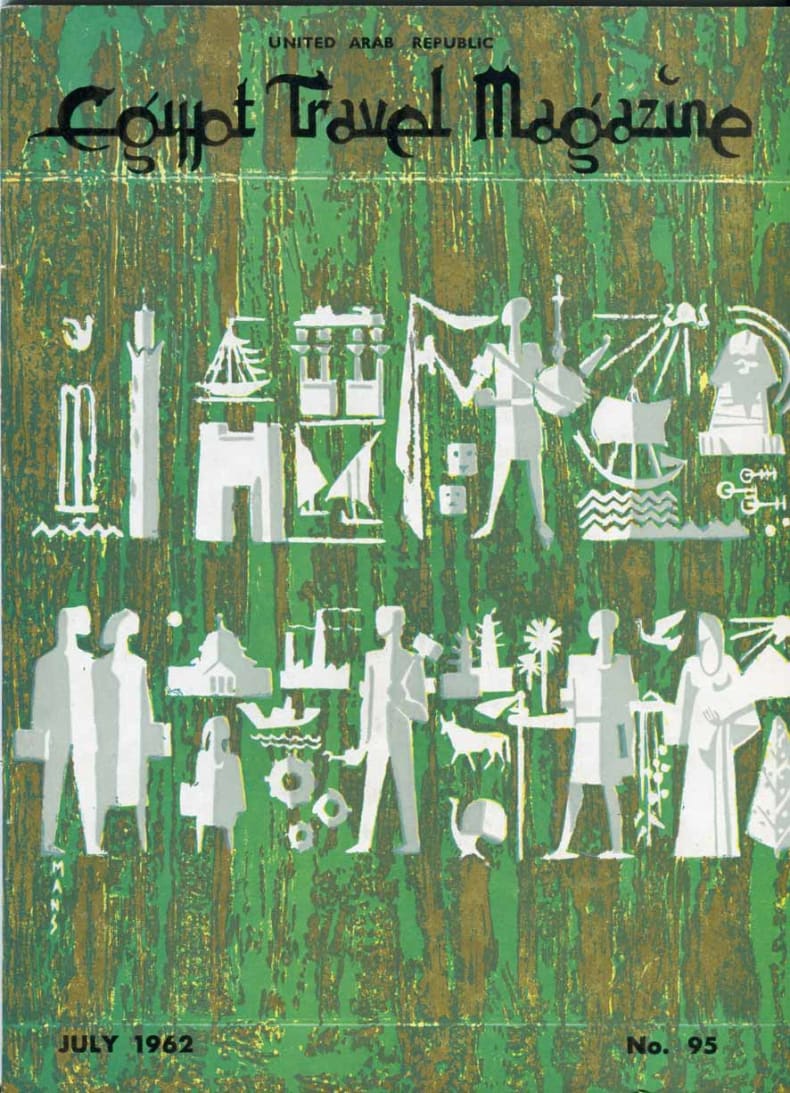 Egypt Travel Magazine 95 cover by Abdel Halim Mansur, published in 1962, ten years after the 1952 Revolution. The caption "Ten Years of Progress" accompanies the design.
Many articles focus on 'touristic' themes, such as how to get to Egypt, traveling timetables, notes on specific tours, accommodation options, etc. However, by no means are these magazines single-themed. On the contrary, they cover diverse topics on Egypt's past and present (list of contents).
Over these 50 years, more than 270 authors contributed to the magazines in the EES Special Collections (list of contributors). The list includes well-known Egyptologists (such as, Margaret Alice Murray, Arthur Weigall, and Geoffrey T. Martin) but also journalists, artists, writers, musicians, academics, engineers, athletes, curators, political activists (namely suffragettes), and more. On the latter, it is worth-noticing how Egypt and the Sudan acted as a venue for British/western women's writing, as explored by Dr Amara Thornton in a previous collection highlight. Other publications also showcased women's contributions. Germaine Malaterre-Sellier (1889-1967) a French feminist nurse, for instance, published an article in L'Egypte Touristique (1933).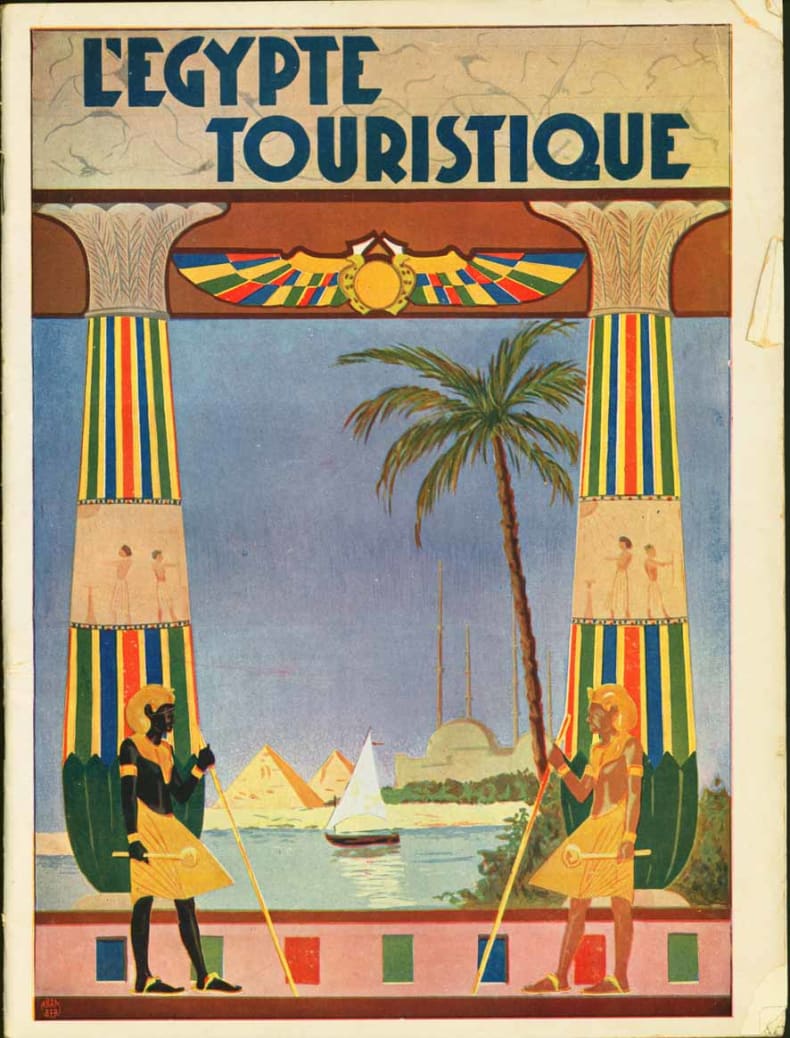 Cover of L'Egypte Touristique's issue to which Germaine Malaterre-Sellier contributed.
Albeit continuing to welcome western authors, Egypt Travel Magazine displays a more balanced distribution between Egyptian and non-Egyptian contributors. Among the former, one can highlight Zaki Youssef Saad (1901-82), an Egyptian archaeologist who took part in several excavations in Saqqara and Nubia; Anwar Shukri (1905-1987), Head of the Department of Egyptian Antiquities and Director-General of the Antiquities Service; and Labib Habachi (1906-1984), the famous Egyptian Egyptologist who excavated at many sites.
I encourage everyone to check out the magazines' covers and contents pages on the EES Flickr, and to join conversations on the history of Egyptology, its colonial legacies, and the diverse ways Egypt has been (re)imagined over the last 100 years.
How can you support work in our collections?
If you would like to support the Society's Collections, then please consider donating here. Funds generated will go directly to providing conservation and care, and improving access to our collections and will be kept in a restricted fund for this purpose.