Travel grants awarded
This year the Egypt Exploration Society will, once again, support early career Egyptologists by offering travel grants to assist attendance to the sixteenth Current Research in Egyptology conference. This international event will be held at the University of Oxford from the 15th – 18th April 2015. The EES grants allow Egyptology students and independent researchers around the world the opportunity to journey to the UK for the purpose of attending the event and sharing their current research projects focusing on the conference theme 'Travel in Ancient Egypt'.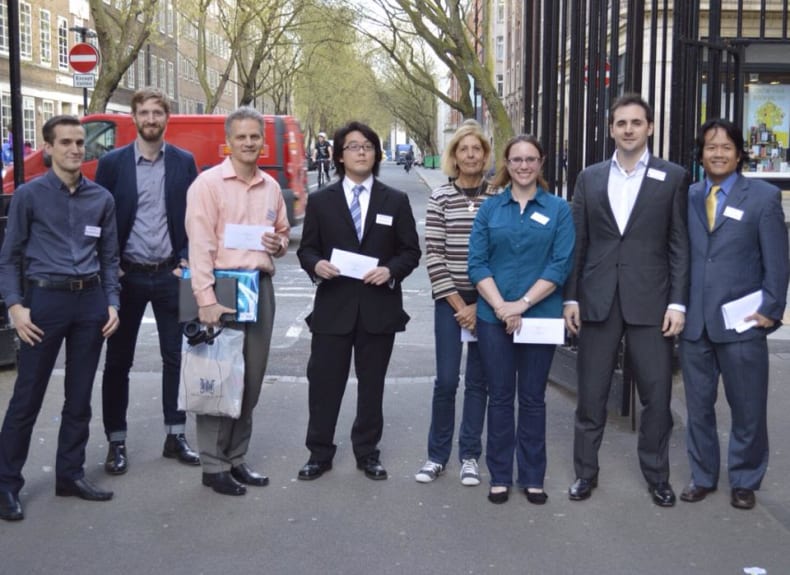 Last year's grant holders at CRE XV, held at UCL and KCL, with Dr Chris Naunton and Carl Graves
We are pleased to announce that the following individuals have now been selected to receive grants towards their attendance at the conference. Each will be presenting a paper or poster at the conference and we hope to see many of you there. A full schedule for the conference can be found here.
Dr Ola Elaboudy
University of Cairo, Egypt
The Use of the Waterways in the Warfare of the New Kingdom
Elizabeth Eltze
University of Auckland, New Zealand
There and Back Again: Tanutamani's Travel into Egypt
Julia Hamilton
University of Auckland, New Zealand
Visitors' Graffiti, Movement, and Performance in the Teti Pyramid Cemetery, Saqqara
Dr Ahmed M. Mekawy Ouda
University of Cairo, Egypt
The Writings of Ahmed Lutfi el-Sayed Pasha (1872–1963) on Ancient Egypt
Dr Maha Mohamed Rashad Yahia
Sada City University, Egypt
The Title Hrj-pr. Its Function on Expeditions in the Middle Kingdom
Shantanu Subramaniam
Deccan College Postgraduate and Research Institute, India
Travelling exhibits and Cultural Intercourse – A Cultural and Contextual Study of the Egyptian Travelling Exhibition to India
Dongni Xu
The Chinese University of Hong King, China
Travelling Networks of Precious Metals: Sketching Wealth Movement in New Kingdom Egypt
Lawrence Xu
University of Auckland, New Zealand
Narrative Time Lord – The Manipulation of Time and Chronology in Two Demotic Stories