The new EES Learning Hub!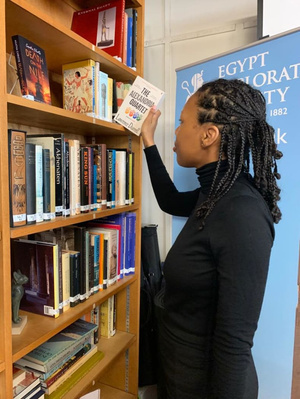 We're delighted to announce that our new Learning Hub is now open at our London Office on Doughty Mews in Bloomsbury! Our new Hub is a social space where our members and supporters can meet up with friends and colleagues, enjoy a hot drink, and browse our new Lending Library of books covering Egyptology and archaeology, the history of Egyptology, and even fiction by acclaimed authors!
The new EES Lending Library was created this summer by our former Library and Collections Assistant Zipporah Blake (seen on the left, hard at work) following suggestions made by members during 2021. Although Zipporah's time at the EES is now sadly over, we're sure you'll enjoy her hard work in creating this Lending Library collection as much as we do!
EES members can browse, read, and even borrow books from the Lending Library. To borrow a book, simply come into the EES, grab the book off the shelf that you are interested in, and bring it to a member of staff who will be able to sign it out for you for 30 day periods. When you're done with the book, simply bring it back and grab another. It's that easy!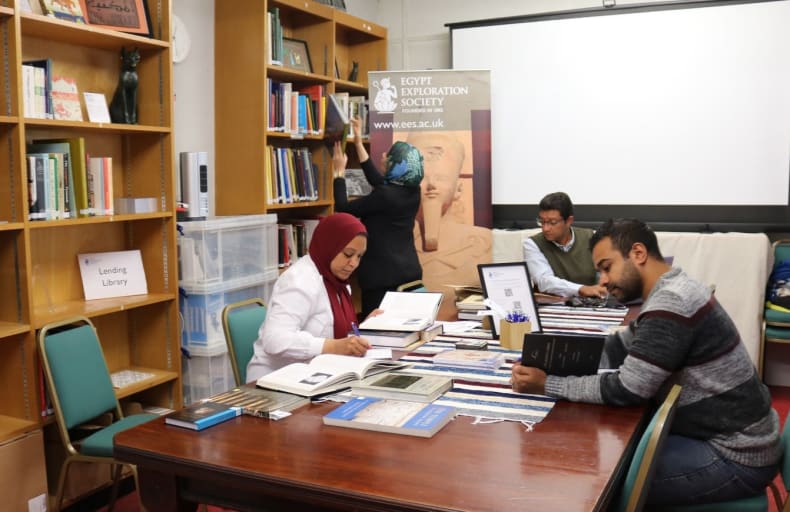 EES Scholars (left to right) Zeinab Mohamed, Noura Seada, Ahmed Mansour, and Mostafa Tolba already making use of the Learning Hub.
The EES Learning Hub is located at 3 Doughty Mews, London, WC1N 2PG and is open to all EES members, Monday-Wednesday 10:30-16:30 (excluding holidays). You can find us here.
If you're not yet a member, then join us here.