Supporting heritage in Egypt
In 2020, members of the Egypt Exploration Society raised over £10,000 to support projects in Egypt focused on surveying, recording, and safeguarding heritage most at risk from damage or loss. We're delighted that, thanks to this generosity, we have been able to support five projects over 2021 as well as appoint a dedicated Grant Administrator to oversee the process.
Dr Fatma Keshk was awarded the Ian Mathieson Fellowship in May 2021 and has worked closely with heritage projects across Egypt to support their applications and the implementation of the funds made available. Your donations allowed Fatma to work with projects safeguarding intangible heritage such as crafts, oral histories, and traditions, as well as tangible heritage such as the recording of monuments and industrial architecture.
With your help, we have been able to support the following projects:
Recording the mausoleum of el-Ashraf Khalil
Moaz Lafi
In a country with such a rich heritage it is inevitable that some monuments fall into disrepair and are in urgent need of conservation. Khalil was a Mamluk Sultan of Egypt from 1290 until his assassination in 1293 when he was interred in a domed mausoleum in the Khalifa area of modern Cairo. Before conservation can take place, the mausoleum must be documented and photographed. An EES Heritage at Risk Grant has provided funds to complete this documentation and will support Moaz in a future application for conservation and restoration. He has been assisted by artists, such as Mariam Yahia, in reconstructing the elaborate decorative programme of the monument which will be made available online.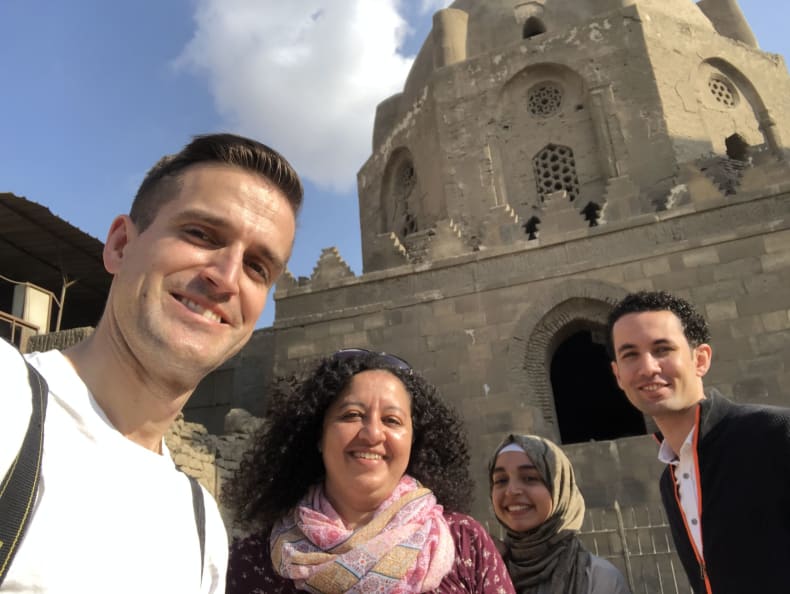 An EES visit to the mausoleum of el-Ashraf Khalil in November 2021.
L-R: Carl Graves, Fatma Keshk, Mariam Yahia, and Moaz Lafi.
Endangered traditional crafts of Upper Egypt
Usama Fatthalla Ghazali, Konouz Yadaweya
The skills and knowledge of craft processes are usually passed down in generations of families and apprentices. Sadly, some of this intangible information is being lost as younger generations move into urban area, new jobs, and new markets. Usama has interviewed the few remaining practitioners of some of Egypt's oldest crafts including basketry, metalworking, woodworking, and ceramics. By preserving these crafts and the stories of those that practise them, future generations will know more about their own identity and history – some may even go on to continue these crafts in the future. Usama will also map these traditional crafts and consider their economic viability in an increasingly commercialised economy. He will create an online booklet about the people connected to these traditions and their personal histories before they are forgotten. Fatma and Essam were able to visit Usama early in 2022 to view some of these crafts and to meet those that continue to pass these traditions on.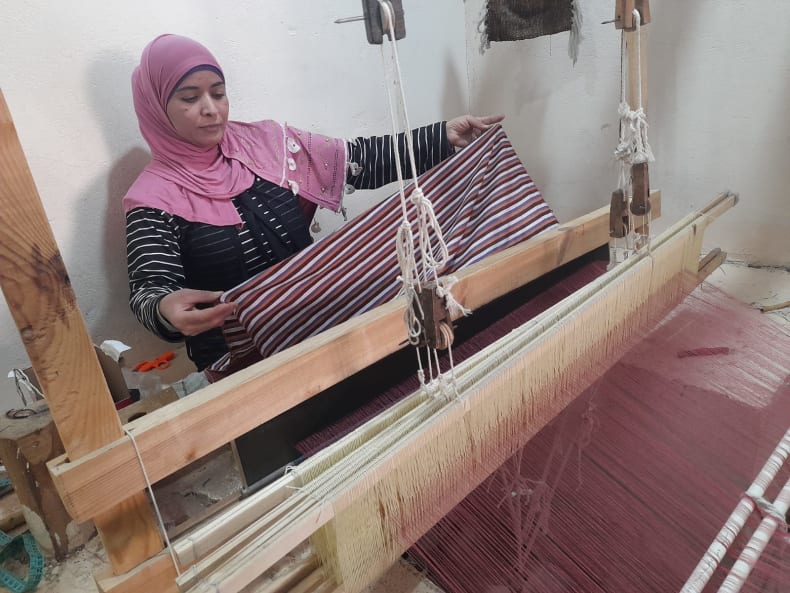 A workshop run by Ms Eman for the manufacture of handwoven textiles by a group of young women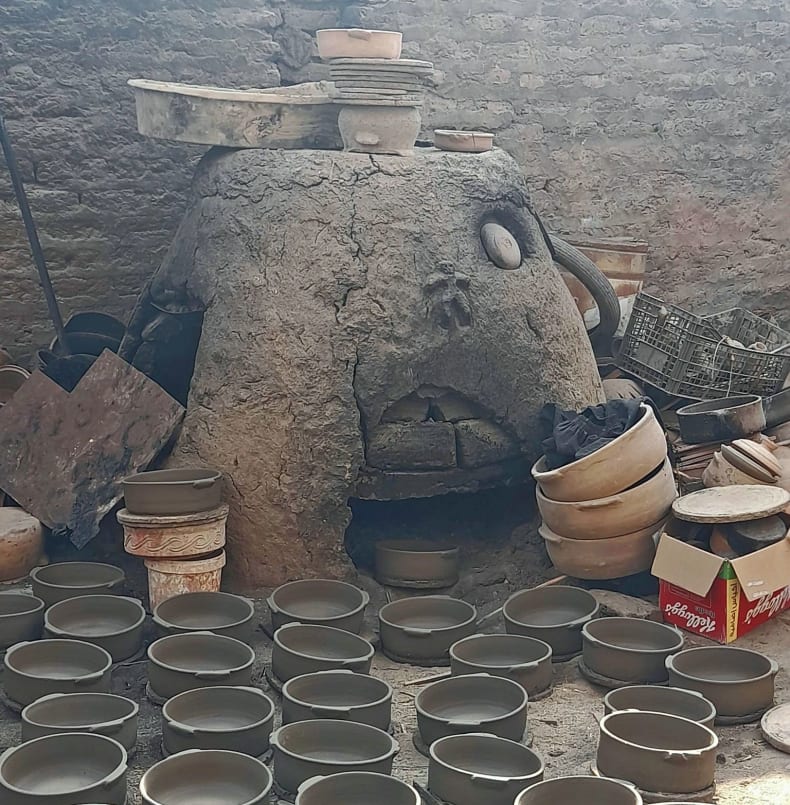 A local pottery workshop owned by Mr Gamal, one of the oldest professionals of the craft in the area
Salam Tram: Archiving Cairo's Lost Tracks
Mina Ibrahim, Shubra's Archive (SARD)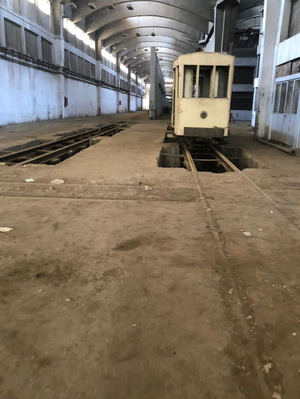 Left: An abandoned tram remains in the last tram garage in Cairo
Salam Tram aims to find out how trams evolved in the collective Egyptian consciousness over the span of one hundred and twenty years (1896-2019). The tram evolved from a mere machine to a space of both social and physical mobility and exchange, and from a foreign space to a space where people from different pockets of society could express themselves. By collecting relevant archives and conducting oral history interviews, the project addresses the tramway and its historical presence in people's memories. It takes on social interactions and gestures, with and within their surroundings, as significant aspects that tie five branches: spaces, instances and events, relations, meaning & perceptions, and technology. While researching and collecting the data, Mina's team do not approach each as a stand-alone branch, but as interdependent aspects constantly functioning together and affecting each other, forming a fluidly complex web in the process.
Industrial heritage of the Khatatba canal irrigation project of Mohamed Ali
Sandra Zaki, Amr Lotfy Aboasy, and Dr Gamal Fathy
During the 19th century, Egypt saw a dramatic increase in industrial production which was facilitated by irrigation projects of Mohamed Ali Pasha, the khedive of Egypt. These irrigation projects drained vast areas of farmland and permitted the extension of agricultural production as well as the establishment of new industries along the Nile valley. Now, with modern water pumps, much of the original industrial heritage has been lost and sites, such as the one shown below on the Khatatba canal, are falling into obscurity, and will soon be lost completely. Sandra's team will clear and record these structures before engaging with the local community to promote the preservation and reuse of these buildings. As well as this, Sandra's team will trace the development of irrigation projects in the Nile Delta during the reign of Mohamed Ali and its impact on Egypt's economic growth during this period.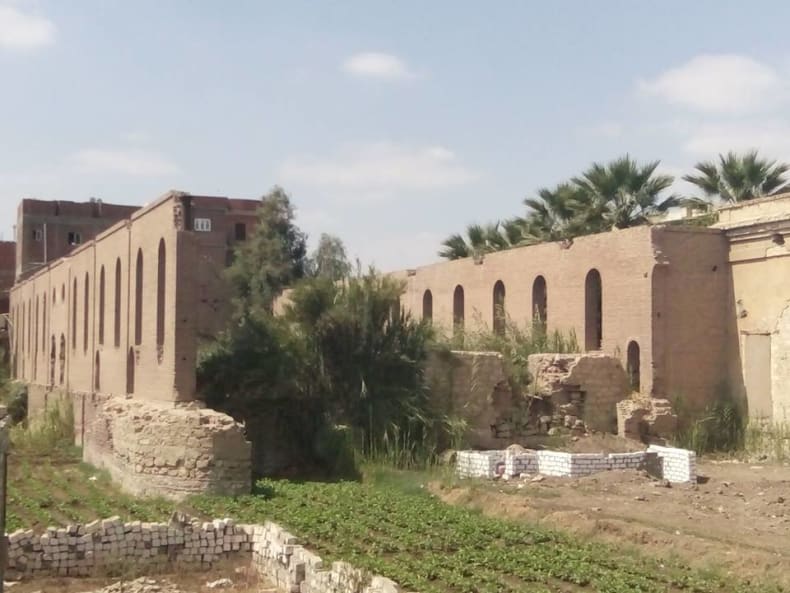 A pumping station along the Khatatba canal now fallen into ruin
The Fish Markets of Alexandria: El-Halaqa and El-Medan
Rawda Mostafa Abdelhady, Raquda Foundation for Art and Heritage
The city of Alexandria, Egypt's second largest urban metropolis and founded in 331BCE by Alexander the Great himself, has been the centre of Egypt's fishing trade for millennia. The rich harvests from the eastern Mediterranean come into the port each morning before being distributed around the country. This project aims to document the architecture of the fish markets as well as trace the exchange networks existing between the fish market (El-Halaqa) in the Anfoushi district, which was built in the 19th century CE, and the adjacent Souk El-Medan in El-Manshya district, which was built in the 16th century CE. This must be completed ahead of the plans to demolish the market and relocate it in 2022.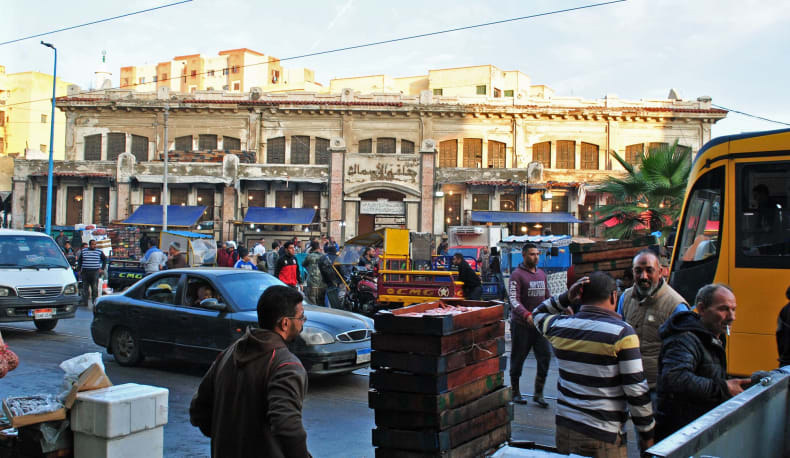 El-Halaqa fish market on the sea front in Alexandria will be demolished in 2022 to build new facilities.
What's next?
This year has opened our eyes to the role that heritage plays in all our lives - the joy it brings and, for others, the economic security. Fatma will continue her work with heritage projects following her Fellowship with the EES in her own Place and the People initiative. This will form a crucial heritage network in Egypt with these projects and others encountered during the period of the EES Heritage at Risk Grants.
A showcase celebrating the supported projects, and bringing them together with other heritage projects and professionals will be held in Cairo in March 2022. Finding synergies and connections between projects is essential for maintaining standards and creating knowledge exchange in Egypt and the EES is delighted to support this with help from its members and donors.
Thank you
Thank you to everyone who made this grant programme possible. Your generosity has safeguarded this heritage for future generations.
Unfortunately, we received far more applications than we were able to support. If you would like to help us support more projects in the future, then please consider donating to the EES Research Fund here.