Inspiring scholars of the future
Supporting the next generation of researchers
Thanks to your donations, this year we were delighted to support the third annual 'Studying Ancient Egypt and Mesopotamia at University' conference at the Royal Asiatic Society and British Museum. The event was organised by the Department of Archaeology at the University of Cambridge and held on Saturday 3 March 2018. It was designed to encourage the study of ancient civilisations at university and targeted at sixth-form students.
I enjoyed the diversity of subjects explored and the enthusiasm of the lecturers.
The event was a great success – despite the terrible weather – and was attended by 46 students and 4 teachers (a further 20 had cancelled due to the snow!). Around 70% were from the independent school sector, mainly from Greater London and Manchester, although one student travelled all the way from Perth, Scotland!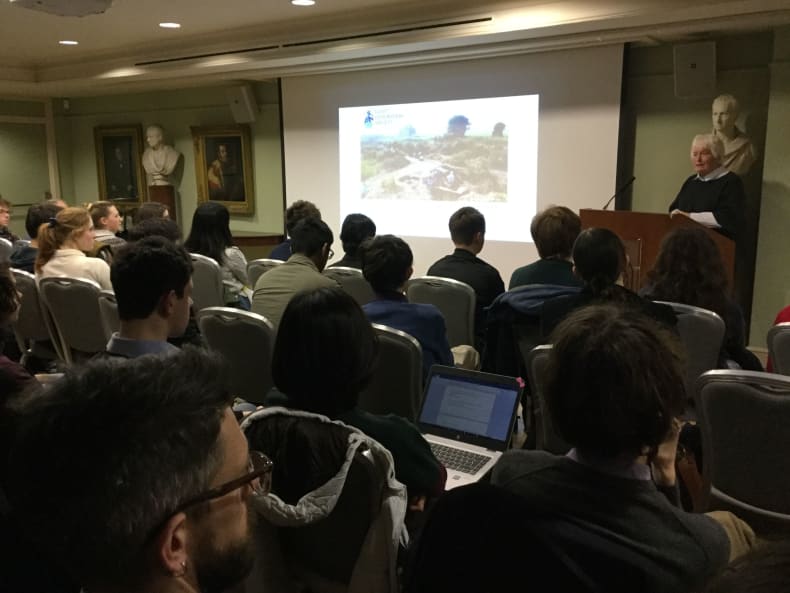 Dr Margaret Mountford inspiring the next generation of scholars
Speakers from a number of UK universities, including Cambridge, Oxford, SOAS, UCL, Reading, Liverpool, Cardiff, UEA and King's, took part. The Society's Chairman, Dr Margaret Mountford, was invited to represent the EES reflecting the continued recognition we have for providing high level education and training as well as facilitation to world-class research facilities and current scholars.
Events like this demonstrate the Society's ongoing commitment to support the next generation of scholars and researchers in Egyptology. Capturing and inspiring those in the formative years of their education to ensure that the discipline continues to be supplied with the best in the field from a diverse background that transcends economic and political boundaries. We look forward to continuing our contributions to events in the future, both here in the UK and in Egypt.
This event was made possible with the support of: