Conserving the Collections Appeal
In our 140th year, it is more important than ever to protect our irreplaceable collections. These preserve a lasting record of British and Egyptian contributions to heritage since our founding in 1882 and constitute one of the most important, publicly accessible collections in the UK today.
Right: Oil painting of Amelia B Edwards by Florence Blakiston Attwood-Mathews hanging in the EES London Office. It was donated to the Society in 1966 from the estate of Amelia's late secretary, Emily Paterson.
In 2022, we need to raise at least £20,000 for essential conservation in our collections. These funds could help us to conserve and reframe our two largest paintings: a portrait of our founder Amelia B Edwards (1831-1892), and the largest original watercolour by Howard Carter known, depicting a shrine at the temple of Deir el-Bahari. The funds can also be used to restore an Egyptian revival chair replicating, though in larger size, a throne discovered in the tomb of Yuya and Thuya (the great-grandparents of Tutankhamun). This is known, in the archive, as the 'President's Chair' and was donated to the Society by George Hornblower shortly before Sir Alan Gardiner was the President. These items are physical markers of the history of the Society, the characters that have been involved, and its contributions to Egyptian cultural heritage.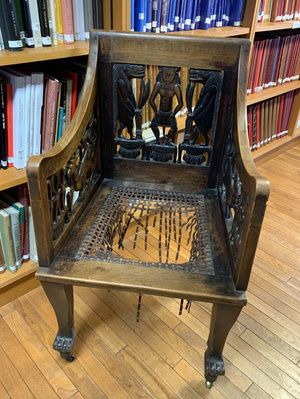 Left: The EES President's Chair, made by Giuseppe Parvis c. 1905-10. A replica of a throne discovered in the tomb of Yuya and Thuya in 1905. It was donated to the Society in 1950 by George Hornblower.
Sadly, all are in urgent need of conservation. Acidic paper and inadequate framing are damaging the paintings which will deteriorate further without vital work. The Chair, probably by Giuseppe Parvis in his Attaba Square store in Cairo, currently needs careful restoration work by trained carpenters and leatherworkers. If funds permit, then we would extend our conservation efforts this year to other items within the collections which need attention, including our collection of Amarna replica plaster-casts dating to the 1930s, and a large – 2.9m! long – papyrus relating to the estates of the Apion family, part of the ruling elite of the Byzantine Empire (P.Oxy. LV 3804-3805).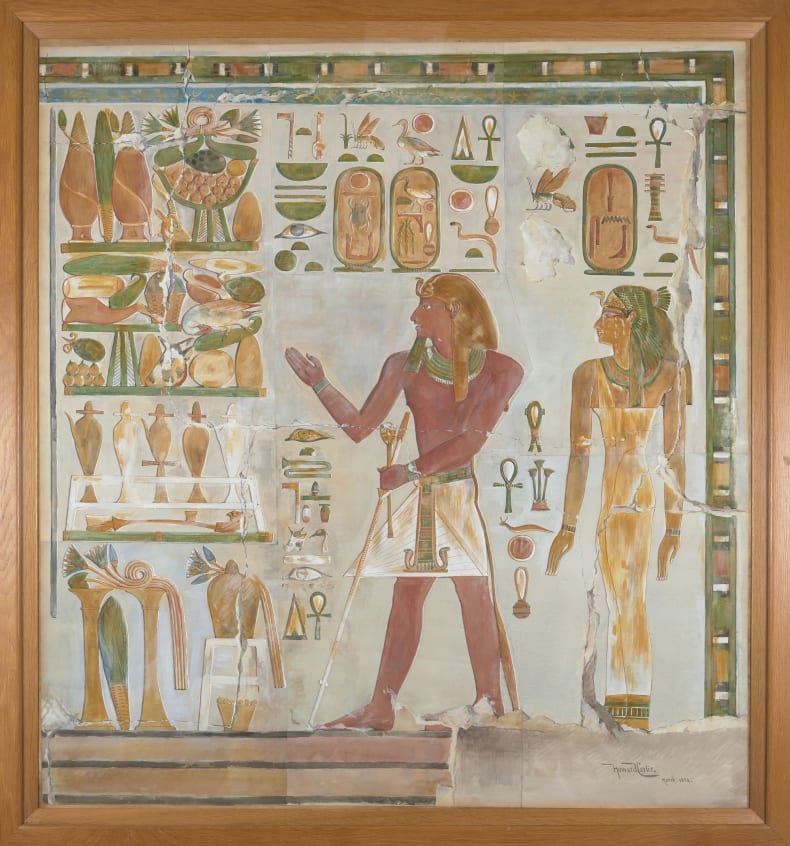 Above: The largest original Howard Carter watercolour in our collection. It depicts Tuthmosis I and his mother, Queen Senseneb, from the temple of Deir El-Bahari where Carter worked for the Society from 1894-1904.
Please help us to ensure that our collections are safeguarded and preserved for future generations, thank you.
Share this appeal on social media using #ConserveTheEES