Buhen: An Egyptian fortress in Nubia
Buhen was a massive fortress located on the west bank of the Nile in Lower Nubia (ancient Wawat). The fortress was constructed during the reigns of Senwosret I and Senwosret III during the 12th Dynasty and both pharaohs were later worshiped as deified rulers at a temple on the site. The fortress was built south of a sprawling Old Kingdom settlement from which copper ore was worked transported north to Egypt. The fortress was occupied throughout the Middle through New Kingdoms and isolated communities continued to reside here until the waters of Lake Nasser submerged the site in 1964.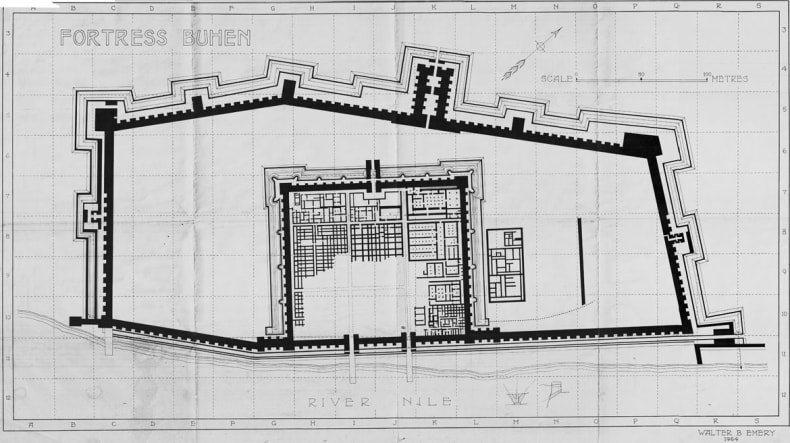 A plan of the fortress of Buhen during the Middle Kindgom
The site was investigated by the University of Pennsylvania's Eckley B Coxe Expedition in 1909-10 under the direction of David Randall-MacIver (1873-1945) and Charles Leonard Woolley (1880-1960). Though they felt the site had been exhausted, Walter Bryan Emery (1903-1971) convinced the committee of the Egypt Exploration Society to explore the site in 1957 when faced with little prospect to excavate in Egypt due to the ongoing Suez Crisis.
Inaugurated on 8th March 1960, the UNESCO Campaign to Save the Monuments of Nubia resulted in an international effort to record or move archaeological sites under threat. For the UK, all operations in Nubia went through the Egypt Exploration Society, making the Buhen dig house a hub for all visitors to the region. What had started as a routine excavation, now turned to a rescue campaign.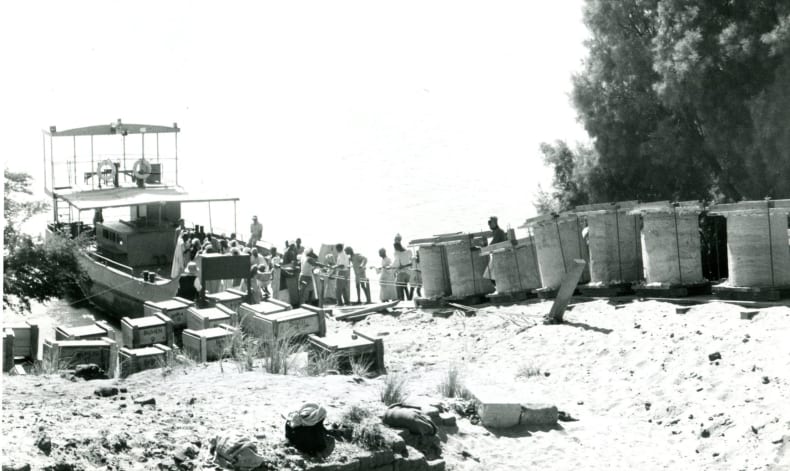 Moving the columns of the New Kingdom temple of Buhen onto a boat
Ricardo Caminos (1915-1992) was recruited in winter 1960 to record the 18th Dynasty temple of Buhen before it would be dismantled and moved to safety at the National Museum of Sudan in Khartoum during 1962. This task was directed by Harold James Plenderleith (1898-1997), then the Director of the International Centre for the Study of the Preservation and Restoration of Cultural Property.
Today the temple of Buhen and much of its treasures can be seen in Khartoum and in museums around the world. The archives of the EES contains valuable information regarding the excavation of Buhen and the artefacts discovered there.
Further reading
Caminos, R. 1974. The New Kingdom Temples of Buhen (2 vols). London: The Egypt Exploration Society.
Emery, W. B., Millard, A., and Smith, H. S. 1979. The Fortress of Buhen: The Archaeological Report. London: The Egypt Exploration Society.
Randall-MacIver, D., and Leonard Woolley, C. 1911. Buhen (2 vols). Philadelphia: The University Museum, University of Pennsylvania.
Smith, H. S. 1976. The Fortress of Buhen: The Inscriptions. London: The Egypt Exploration Society.