A new deal for EES books
We are pleased to announce a new partnership with publishers I.B. Tauris, who will become our official book distributor, alongside ISD who will continue to serve the North American market. I.B. Tauris is an independent academic publisher, bringing out some 270 books a year, with a broad range of titles and a strong interest in the fields of Egyptology and archaeology.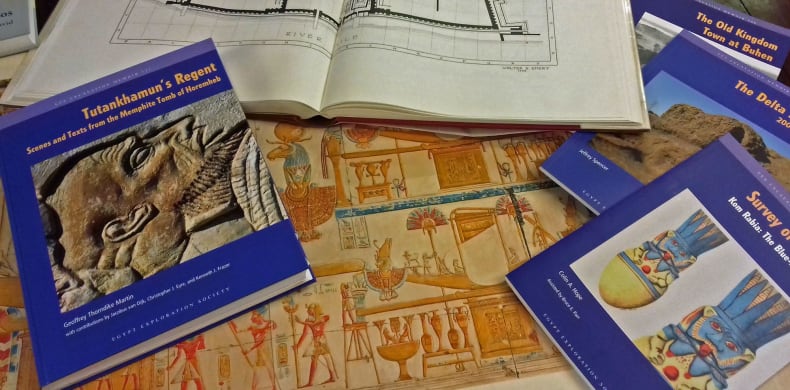 What's staying the same?
Excavation Memoirs, Graeco-Roman Memoirs and Occasional Publications will continue to appear under the EES name and editorship. Our members with a subscription to the Graeco-Roman series will continue to receive their volumes on the same terms as before. Members will, of course, also still be able to claim their 15% discount on our books.
What's going to be different?
For starters, we hope that I.B. Tauris' much wider reach will mean that more people, more libraries, more research institutions will see our publications! In this way, we aim to ensure that EES books stay relevant for the discipline and help fulfil our mission of exploring Egyptian sites and monuments and sharing a lasting record of them.
In practical terms, the new deal means that all book orders will go through I.B. Tauris. While we are still finalising the transition, we will stop taking book orders during April 2018 – an update will be sent out in due course – and I.B. Tauris' website and customer department will become your destination for all EES books (respectively ISD, for our North American members).
Finally, we're very happy that I.B. Tauris have agreed to extend the 15% members' discount to their own titles as well as those published by the American University in Cairo Press and the Classical Press of Wales – giving you access at an attractive rate to a vast range of books on Egyptology, archaeology, ancient history and on the Middle East and Islamic Studies. All current members are entitled to this discount and can request a code by contacting our London Office.