Board of Trustees
The Society's Board of Trustees is composed of a maximum of 12 members plus the three Officers of the Society (Chair, Vice-Chair and Treasurer).
View our Annual Reports, Memorandum, and Articles of Association
Dr Abeer Eladany
Dr Abeer Eladany graduated from the Faculty of Archaeology, Cairo University, and then gained a postgraduate diploma and Pre-MSc degree from the Faculty of Tourism, Helwan University. She worked at the Egyptian Museum, Cairo, for more than 10 years before travelling to Italy to study conservation of ceramics in Florence. She then joined the KNH Centre, University of Manchester, to study Biomedical and Forensic Studies in Egyptology where she achieved her MSc and PhD. In 2015, Abeer gained an MLitt in Museum Studies from the University of Aberdeen. In her current role as a curatorial assistant at the University of Aberdeen's Museums and Special Collections, she promotes wider access to the museum collections. Abeer's research interests are mainly related to human remains, the history of Egyptology, and Museology (particularly Ethics and Repatriation), and she has joined archaeological excavations in Egypt and in Scotland.
Abeer is an active volunteer for a wide range of charities ranging from community projects to heritage groups in the UK and is currently a Trustee for SHMU, a community media organisation and one of the core cultural organisations in Aberdeen. She is also a director on the Board of Trustees of Soundfestival a new music incubator based in north-east Scotland encouraging new music creation and discovery.
Abeer is a member of the Slavery, Empire and Scottish Museums steering group that has recently published recommendations following a large public consultation regarding how Scotland's existing and future museum collections and spaces can better recognise and represent a more accurate portrayal of Scotland's colonial and slavery history.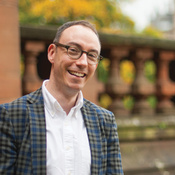 Dr Campbell Price
Dr Campbell Price holds a PhD in Egyptology from the University of Liverpool, where he is now an Honorary Research Fellow. Since 2011, he has been Curator of Egypt and Sudan at Manchester Museum, one of the most significant collections of Egyptian objects in the UK. In this role Campbell confronts daily the public (mis)perception of Ancient Egypt, and aims to explain aspects of the culture and why it matters today. His field- and museum work in Egypt itself has fostered links that he continues to develop. Campbell believes the EES is a key vehicle for both the connection of specialists and engagement with broader audiences in the UK and Egypt. A key question must be: why do we study Ancient Egypt and why is it relevant today?
Campbell's work posing questions about Ancient Egypt – through publications, exhibitions, and on traditional and social media – has given him an insight into the needs and demands of variety of audiences. He would look to bring both strategic perspective to the future of the EES as an institution for British Egyptologists, and to develop its relevance and reputation beyond the Academy in Egypt and abroad.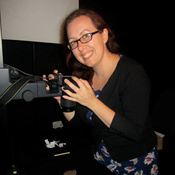 Dr Jennifer Cromwell
Dr Jennifer Cromwell is Senior Lecturer in Ancient History at Manchester Metropolitan University. She studied Egyptology at the University of Liverpool for her BA, MA, and PhD (focussing on Coptic legal documents from western Thebes in the 8th century CE), and before joining MMU in 2018 she held research positions at the University of Oxford, Macquarie University (Sydney), the University of Copenhagen, as well as the British Museum. Her research focusses on social and economic life in Egypt during the late 6th to 8th centuries CE, in villages and monasteries, and the study of Coptic papyri. From 2021–23 she is the principal investigator on a UK Research Institute-funded project, 'Ancient History, Contemporary Belonging' (with sociologist Dr Caitlin Nunn), which works with Manchester Museum, Sheba Arts, and migrant-background youth researchers (aged 16–24) in Greater Manchester to creatively explore the forced migration of ancient historical objects and what it means to 'belong'.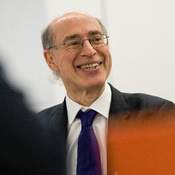 Dr John Baguley MBA
Dr John Baguley MBA is a Fellow of the Institute of Fundraising UK and in 2016 received its Lifetime Contribution Award. He heads the International Fundraising Consultancy (groupifc.com), which he founded in 2000 to change the world. It now has offices in twelve countries.
His clients include the top UN organisations, international NGOs and game changers of all sizes and in all fields.
He has also developed the free Top Table breakfast discussions for heads of fundraising in the Gherkin, London and free First Friday fundraising clinics in several countries as well as Fundraising TV on YouTube. He is occasionally active on social media.
John has worked and lectured around the world and is the author of several books on Amazon.uk including 'Successful Fundraising', his guide for fundraisers of all disciplines, which is also available in Russian. His PhD thesis "The Globalization of NGOs" is published by VDM.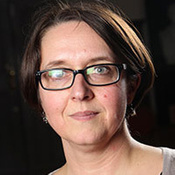 Dr Katharina Zinn
Dr Katharina Zinn is Senior Lecturer in Egyptian Archaeology and Heritage at the University of Wales Trinity Saint David, Lampeter Campus. Being at home at the School of Archaeology, History and Anthropology, she is perfectly placed to teach and publish in her areas of interest (museums, heritage, material culture, identity, religion, Amarna, art, gender) using ancient Egypt as the civilisation which provides her case studies. She studied Egyptology (major), Communication- and Media-Sciences (minor), Economy (minor) at the University of Leipzig (Germany) where she also obtained her Dr.Phil. in Egyptology in 2008. Before moving to Wales and working both at Swansea University and UWTSD, Katharina was affiliated lecturer at the Faculty of Asian & Middle Eastern Studies, University of Cambridge. From her first steps in Egyptology onwards, she was involved in work in museums, be it as guide, research assistant or assistant curator. As part of the museum projects she has done a lot of outreach activities.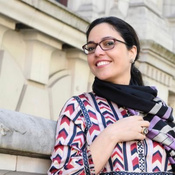 Dr Omniya Abdel Barr
Dr Omniya Abdel Barr is an architect with a multidisciplinary experience in urban conservation, monument restoration and cultural heritage documentation and digitisation. She holds a PhD in history from Aix-Marseille University (2015), an MSc in Conservation from Raymond Lemaire Center in KUL (2004) and a BSc in Architecture from the Fine Arts of Helwan University (2000).
Her work is concentrated on Islamic art and architecture with a focus on the Mamluk period (1250-1517) in Egypt and Syria. Since 2012, she has been documenting the looting and destruction in Egypt and has actively campaigned to save Historic Cairo's architectural and cultural heritage. Omniya has initiated partnerships with respectable international institutions and has set up the structure and funding of her projects. Currently, she is the Barakat Trust Fellow at the Victoria and Albert Museum, leading the digitisation project on K.A.C. Creswell's photographic collections, in partnership with the American University in Cairo, the Ashmolean Museum and Harvard University. She is also directing projects to rescue Mamluk heritage with the Egyptian Heritage Rescue Foundation, in which she is trying to set up a structure to preserve the know-how in traditional craftsmanship and create a specialised center in design to promote Historic Cairo's arts and crafts.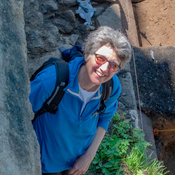 Dr Penny Wilson
Dr Penny Wilson is an Egyptologist with a specialist interest in both philological research of Ptolemaic hieroglyphic texts and temples and Egyptian settlement archaeology particularly in the Northern Nile Delta region. She studied at Liverpool University for both her BA and PhD (on the Edfu Temple texts) and then worked as Assistant Keeper in the Antiquities Department of the Fitzwilliam Museum, Cambridge. Penny is now Associate Professor in Egyptian Archaeology in the Department of Archaeology, Durham University, having joined the Department in 1999. She has worked on excavations and projects in Egypt including at Qasr Ibrim as epigrapher, at Naukratis, Tell el Balamun, Ashmunein, North Sinai and at Zawiyet Umm el Rakham with the Liverpool University team. As Field Director at the ancient capital city site of Sais (EES and AHRC funded) she has helped to uncover the archaeological potential of a highly important but 'lost' site. Penny is also Director of the Special British Academy Project
the Delta Survey
documenting many otherwise unknown sites in the Nile Delta. She joined the EES when at school and would be honoured to serve as a Trustee when we look forward to an interesting and dynamic future.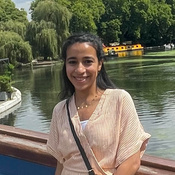 Dr Roba Ashraf Abdelbadie
Dr Roba Ashraf Abdelbadie is a Lecturer in Accounting at the University of York and holds a PhD in Accounting & Finance from Newcastle University, as well as an MSc in Accounting, Finance, and Management from the University of Bristol. She completed her BSc in Accountancy at Asyut University, Egypt. In June 2021 Roba was awarded an Associate Fellowship of the Higher Education Academy. Her own research projects offer valuable insights suggesting that policymakers and regulators should consider the role of social connections between institutions in sustaining their financial stabilities.
Roba has lived in the UK since 2015 and is passionate about archaeology, Egyptology, and Islamic art. She is concerned that heritage remains at extreme risk in many areas of Egypt and serious action should be taken to save it. Roba was introduced to the EES during the global pandemic and was impressed with the Society's commitment to explore and record the cultural heritage of Egypt. She is keen to dedicate her knowledge and expertise to supporting the EES.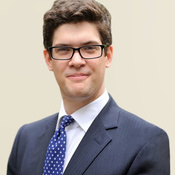 James Potts
James Potts is a barrister at 3 Verulam Building chambers, specialising in commercial litigation and arbitration in London, the Middle East, the Far East, and the Caribbean. Having travelled widely in Egypt over several years, he joined EES in 2016 and began studying ancient Egyptian language on the EES short courses. Inspired by this, in 2019 he enrolled on a part-time MA in Archaeology at Birkbeck, with his dissertation research focusing on trade networks and interactions between Middle Kingdom Egypt and the Horn of Africa.
James also holds a degree in English Literature from Oxford University and an MPhil in Eighteenth Century Studies from Cambridge University. He was twice a Hawthornden Fellow for creative writing. He has been a co-opted member of the EES Premises Working Group since 2020.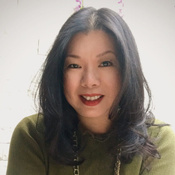 Jenny Chong
Jenny Chong has 20 years of experience in investment banking technology and was formerly the Global Head of eCommunications Surveillance at Credit Suisse in London. She is now advisor to two social impact start-ups as well as sitting on the Board of Medway NHS Foundation Trust. Jenny is also actively involved with Imperial College London's flagship program for growing ventures and innovation. Jenny has a keen passion for archaeology, Egyptology and Islamic art which she has cultivated through her membership of the Egypt Exploration Society. She has been co-opted to the EES Finance Committee since 2020 and looks forward to contributing her skills in technology and management to the Board of Trustees.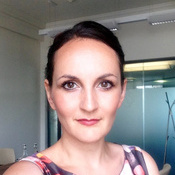 Lizzie Glithero-West FSA
Lizzie Glithero-West FSA has been the Chief Executive of The Heritage Alliance since 2016. Her previous career has been mainly in the civil service and she has expert knowledge of a wide range of policy areas including archaeology, heritage protection, museums, and tourism.
Lizzie has also spent time as Private Secretary to Culture Ministers and the Permanent Secretary, as Head of Logistics at DCMS at the time of the General Election, and on secondment to English Heritage and to the National Museum Directors' Council. Lizzie's first love is heritage. She has a degree in Archaeology and Anthropology from Oxford, and an MA in History of Art from Birkbeck. In 2014 she was elected a Fellow of the Society of Antiquaries.
Lizzie is a mum to two energetic girls, writes about Cultural Education and tries to keep up with her academic interest in Egyptian Revival in her spare time. Lizzie has published on Belzoni and the Egyptian Hall and on Cartier's Egyptian Revival Jewellery in the Art Deco Period. She is a member of Royal Holloway's humanities advisory board and of the Canal and River Trust's Cultural Heritage Advisory Group, and she lectures at Oxford University on heritage.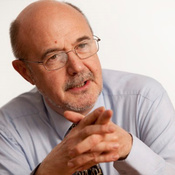 Richard Ayre
Richard Ayre's career as a broadcast journalist culminated in his being in charge of editorial regulation, first at Ofcom and then at the BBC. He has chaired two charities, the Asian and African-Caribbean Reporters Trust and Article 19-The Global Campaign for Free Expression.
Richard began as a BBC trainee, his first permanent posts being as a TV and radio reporter in Belfast through the worst years of The Troubles in the 1970s. He then led BBC TV's team of UK correspondents before becoming Head of BBC Westminster for the final months of the Thatcher administration. He moved to become Controller of Editorial Policy for the BBC, and deputy chief executive of BBC News.
He took early retirement in 2000 to be a founder board member of the Food Standards Agency, serving two terms as acting deputy chairman and standing down when he was appointed to the Ofcom Content Board in 2007, then moving to the BBC Trust for seven years. Simultaneously he was the Law Society's FoI Adjudicator 2001-2013.
Following the allied invasion of Iraq he chaired the editorial board of Al-Mirbad, the first post-Saddam broadcaster in Mosel. He has worked on assignment in Iraq, Kuwait, and Israel, and has visited Egypt on three occasions though as a tourist.
Richard lives with his partner of 37 years, the artist Guy Burch, on the Isle of Dogs.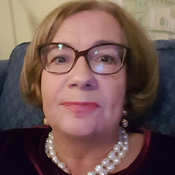 Sue Preston
Sue Preston is a Chartered Accountant and a Chartered Tax Adviser. She worked in the oil industry for a number of years before taking a career break and moving to the Far East. Since her return she worked for a number of not for profits and was formerly the Finance Director of a grant giving trust.
Sue has wide experience of not for profit accounts and a particular interest in governance. She has also had a keen interest in Egyptology and studied at Birkbeck College.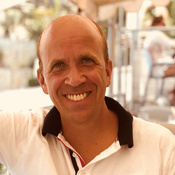 Taco van Heusden
Taco van Heusden is the Chief Investment Officer of an Egyptian hotel and real estate developer and operator. Based both in Giza and London, he has been working in the country since 2011.
He started his career in investment banking at UBS and later moved to work for several institutional investors, always in the real estate space. In the last 10 years of his career Taco has focused on working with and for high net worth individuals in the development of hotels.
He has started and been involved in several entrepreneurial ventures and has experience in the automation of processes and information. He hopes to bring his experience in investments and property to the role of trustee for the EES.
Taco has obtained a BSc in Hotel Administration from the Hotelschool Maastricht and MSc in Finance from Nyenrode University. He lives in Wimbledon with his partner Livia and their three children Luca, Enzo and Raffi.