Visions of Ancient Egypt Exhibition
After a successful three months in Norwich at the Sainsbury Centre (which saw over 9000 visitors), the Visions of Ancient Egypt: Art, Design and the Cultural Imagination exhibition has now moved to the Laing Art Gallery in Newcastle. This exhibition examines the enduring appeal of ancient Egypt in art and design, exploring how ancient Egypt has been re-imagined across time, from ancient times to present, to suit different narratives and to construct changing identities. The exhibition uses important Egyptological events as a point of departure.
In exploring the 1922 discovery and excavation of the Tomb of Tutankhamun, led by Howard Carter, watercolour paintings from Carter's earlier work with the EES at Beni Hassan and Deir el-Bahari are displayed alongside Harry Burton's photographs of the tomb excavation itself.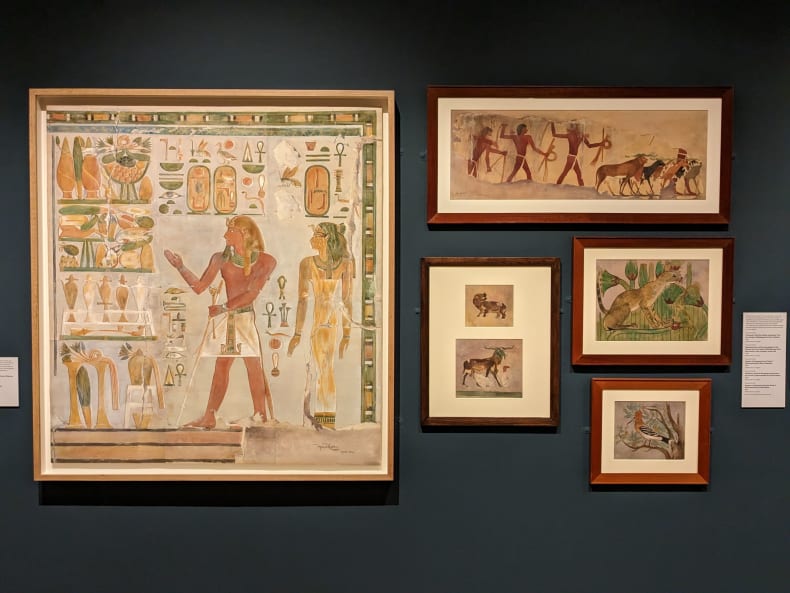 Six of the Society's Howard Carter watercolours on display at the Laing Art Gallery (EES.ART.224, EES.ART.213, EES.ART.244 & .245, EES.ART.230, and EES.ART.211).
Six of the Carter watercolours on display are on loan from the EES for the duration of the exhibition (browse all of the Society's watercolours on Flickr). These include Carter's (and the Society's) largest watercolour, the 1.2 by 1.3 metre, full-scale painting from the chapel of Thutmose I in Hatshepsut's mortuary temple at Deir el-Bahari (EES.ART.224). This painting was made by Carter in 1894 while he was working at the temple for the Egypt Exploration Fund (as we were then known). The watercolour was only possible to display thanks to the generosity of those who donated to the Society's Conserving the Collections Appeal, which funded the conservation and reframing of this amazing archival record and work of art.
The rest of the exhibition contains paintings, sculpture, antiquities, photography, fashion, furniture, jewellery, and more, this wide-ranging exhibition traces how processes of re-invention, appropriation and subversion have generated multiple visions of Egypt since the Roman Period. The western fascination with ancient Egypt is explored side-by-side with Egypt's own engagement with its ancient past.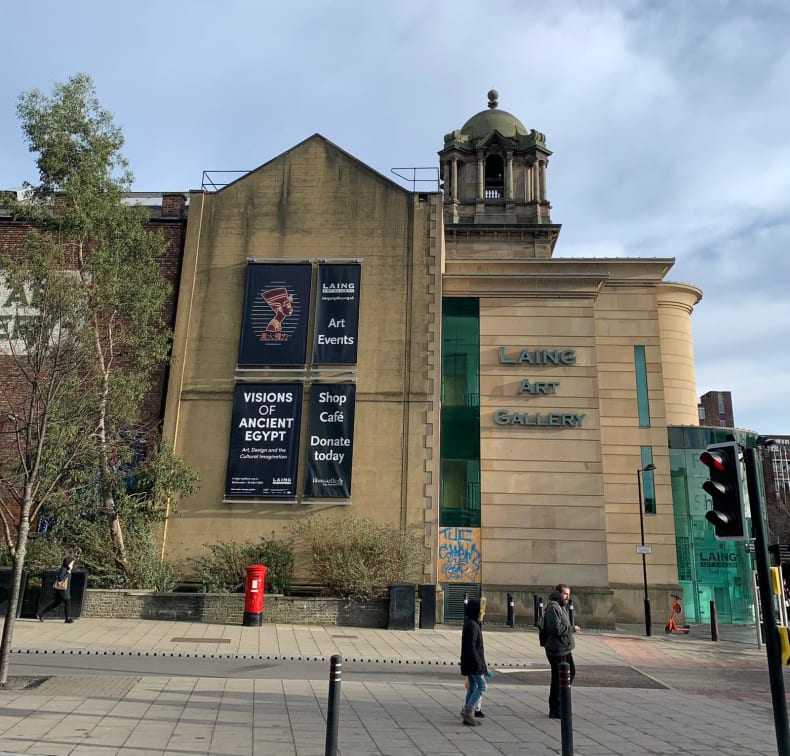 The Laing Art Gallery in central Newcastle.
The exhibition runs from the 28 January to the 29 April 2023 at the Laing Art Gallery in Newcastle and features artworks from antiquity to the present day and by artists including Joshua Reynolds, Lawrence Alma-Tadema, David Hockney, Chant Avedissian, Chris Ofili, and Sara Sallam.
Find out more about the exhibition here: