Tutankhamun: The Mystery of the Burnt Mummy
A new film, 'Tutankhamun: The Mystery of the Burnt Mummy', in which the Society's Director, Dr Chris Naunton, leads an investigation into the life and death of the boy king, will be broadcast on Channel 4 in the UK on Sunday 10 November, at 8.00pm.
Dr Naunton and the team have drawn a series of startling conclusions as a result of the research, specifically that there is compelling evidence that Tutankhamun may have been killed in a chariot accident and that his body may somehow have combusted inside the tomb shortly after his burial. The research has received extensive coverage in the UK, in The Independent, The Sunday Times, The Telegraph and elsewhere, in the United States on CBS (see below) and in The Huffington Post, and in numerous other countries around the world. The news was even mentioned on the BBC's satirical news show Have I Got News for You.
The investigation draws on the expertise of Egyptologists and EES members including Dr Robert Connolly, Dr Ashley Cooke, Steve Cross, Dr Yasmin El-Shazly, Dr Melinda Hartwig and Professor Salima Ikram, and a number of scientists and other specialists from a wide variety of different disciplines.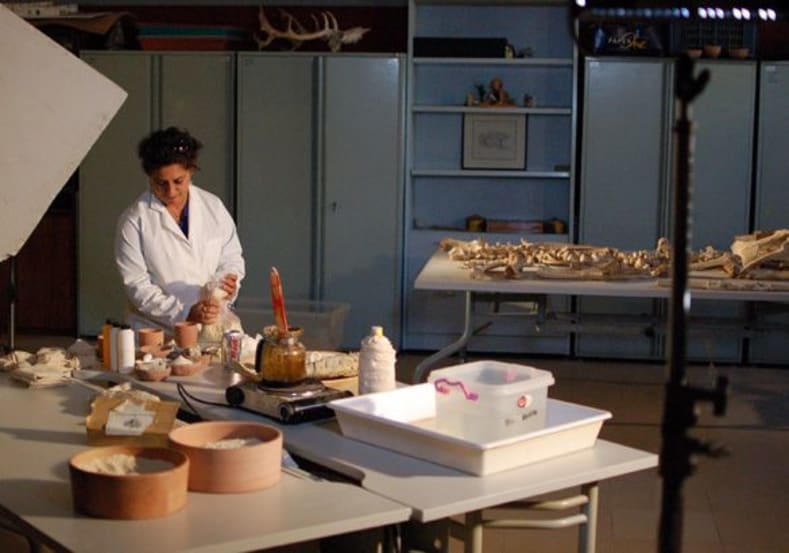 Professor Salima Ikram prepares to demonstrate the mummification process for the cameras
The Society has a strong connection with Howard Carter, the discoverer of the tomb of Tutankhamun, who first visited Egypt as an artist working for the EES in 1891 (see 'Howard Carter and the EES', for further information) and maintained his connection with the EES throughout his career, providing a special lecture for members on the tomb shortly after it had been found. Chris joined the production team from Blink Films to make the documentary in summer 2012, travelling to Egypt to film in the Egyptian Museum, Tahrir Square, the tomb of Tutankhamun in the Valley of the Kings and several other locations throughout the country, and has posted a few thoughts and photos about the film on his blog.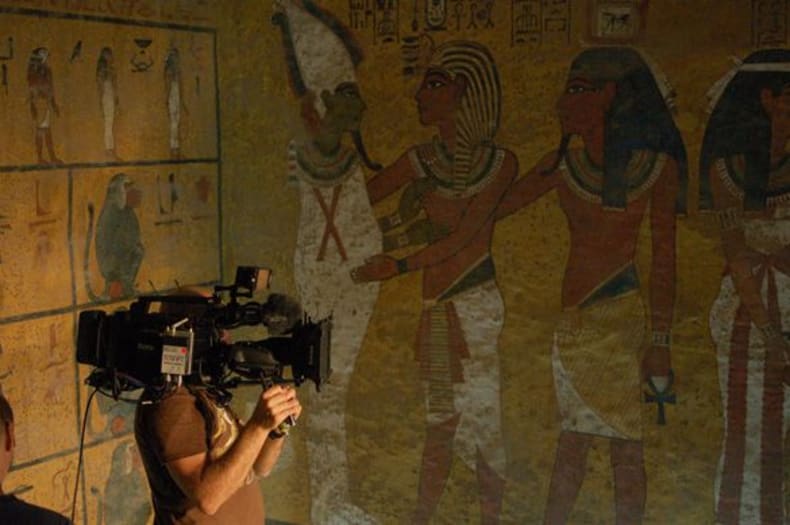 Director of Photographer Gary Clarke filming inside the tomb of Tutankhamun in the Valley of Kings
Cultivating relations with the media, and with the television industry in particular, has been an important part of the Society's strategy for raising its public profile for some time now. Getting the EES' name 'out there' by showing staff and others to be taking the lead in delivering cutting edge Egyptology to the public is a vital means for us to build credibility and recognition. We hope many who see the film will seek out the Society online and will feel inspired to get involved by becoming a member or making a donation.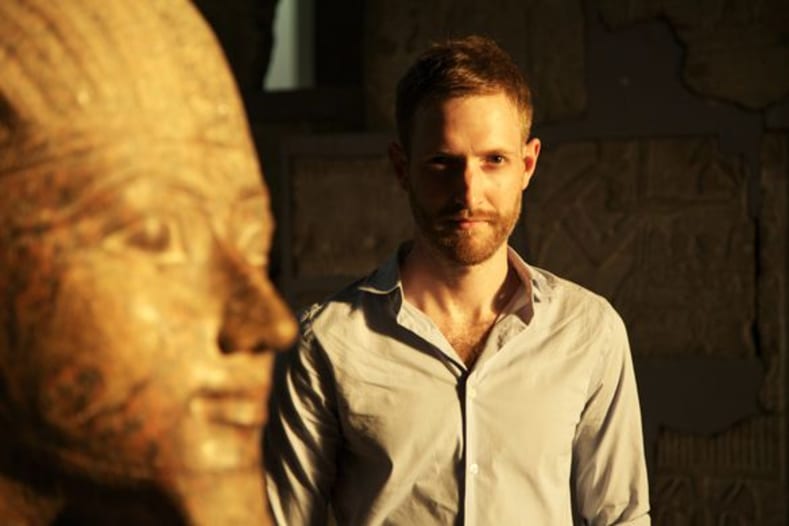 Chris Naunton in the Egyptian Museum, Cairo during filming of Tutankhamun Decoded / Ultimate Tutankhamun. Photo Credit: Sean Smith © Blink Films