Treat yourshelf to our latest book!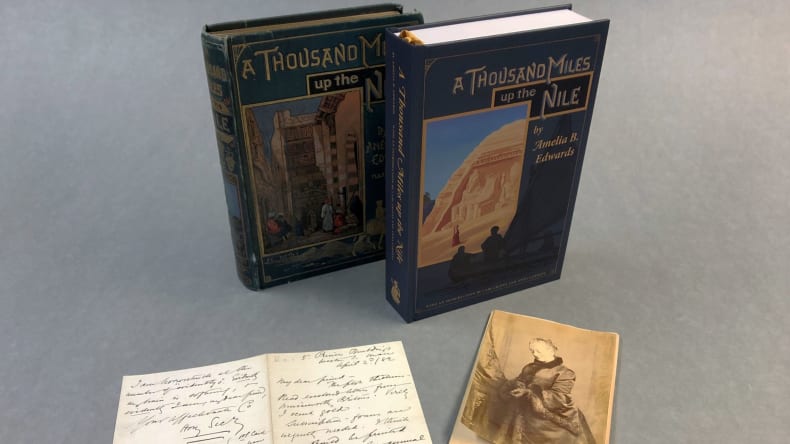 A chance visit to Egypt in 1873 by Amelia Edwards changed the future of British Egyptology forever. Her travelogue, A Thousand Miles Up the Nile, would inspire generations after her to take up her message to support and promote Egyptian cultural heritage. While the way we do this has changed a lot since Amelia's time, that message remains strong and continues to inspire us, the Egypt Exploration Society, to continue her mission.
This is the most important of my books, and the one by which I most hope to be remembered – if I may hope to be remembered at all!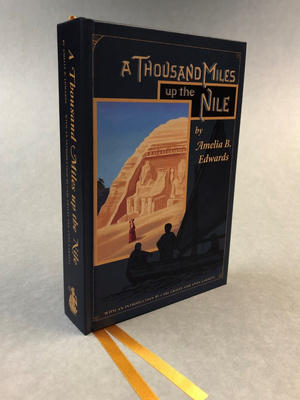 This year, to mark the 140th anniversary of the Egypt Exploration Society, we're pleased to launch a special reprint of Amelia's A Thousand Miles up the Nile. This has been made possible thanks to the generosity of donors in our 2021 Edwards Appeal and we're very grateful to them for their support.
Left: A new cover, designed by Deena Mohamed, referencing Amelia's original watercolour, while also raising questions about whose perception of Egypt we are reading and what other narratives remain unheard.
Bringing together archives at the EES as well as original artwork by Amelia kept at the Griffith Institute and Somerville College, both University of Oxford, and the Peggy Joy Egyptology Library, this is the first colour version of A Thousand Miles Up the Nile ever produced. After more than 140 years, readers are now able to truly experience Amelia's famous journey. A new introduction by Dr Carl Graves (EES) and Dr Anna Garnett (UCL) provides context and commentary on Amelia's original narrative and her legacy for Egyptology today – the essential companion to the book.
Finally, a chance to meet the real Amelia B Edwards. A must buy – for the introduction and cover alone!
Treat Yourshelf
If you would like to own one of the limited hardback copies available then they can be purchased online from:
or
Take a look inside the new reprint: