Travels through time and space
In November 1873, Amelia Edwards embarked on a famous voyage up the Nile. Arriving in Alexandria on 27th November, Amelia and Lucy Renshaw travelled on to Cairo before departing onboard the Philae (a dahabiyeh) on 13th December. Over the next four months, Amelia, Lucy, and their fellow travellers visited sites across Egypt and northern Sudan journeying as far south as the Second Cataract of the Nile.
Amelia's painting of Memphis which she visited in December 1873. Original now in the Peggy Joy Egyptology Library.
On her way, Amelia sketched and painted the sites she visited and people that she met. She wrote about her adventures in a book, A Thousand Miles up the Nile. In 2022, to celebrate 140 years since Amelia's founding of the Egypt Exploration Society, we reprinted her famous work and included – for the first time – her colourful paintings now kept in archives around the world.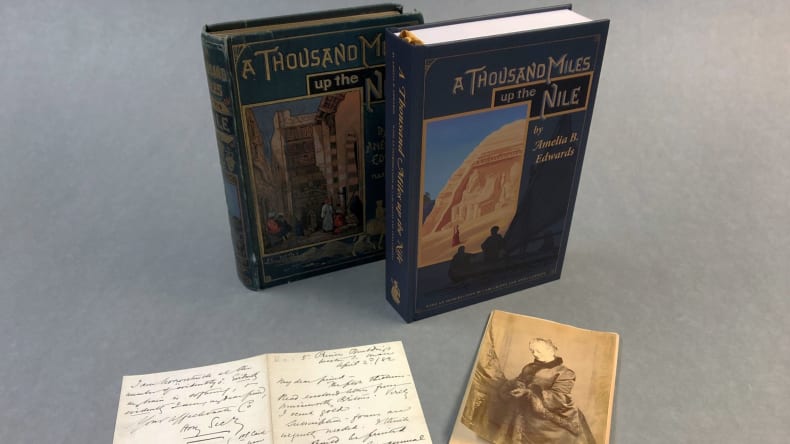 Read more about the 2022 reprint of A Thousand Miles up the Nile
This year, to mark the 150th anniversary of her voyage to Egypt, we will continue to explore the life and legacy of Amelia Edwards and her enduring impact in Egyptology. Kicking off in January 2023, our Director, Dr Carl Graves, will be speaking about Amelia and her links to Tutankhamun for the Happy Egyptology Society in Barnsley as part of the ongoing 'Tut' 22: The life of Tutankhamun' exhibition at Experience Barnsley Museum, curated by the head of our Local Ambassador Programme, Prof Joann Fletcher. Then, in March, Carl will speak about Amelia's arrival in Egypt and the legacy of A Thousand Miles up the Nile at Alderney Literary Festival. A new window display in Doughty Mews will trace Amelia's journey up the Nile and the sites that she visited. Then, in the second half of 2023 our event programme will investigate the theme of 'travel' more broadly – from the ancient world to the modern day. So, join us as we journey to Egypt through writing and art across the ages.
Title image: Abu Simbel by Amelia Edwards in January/February 1874. It was here that Amelia's companion, 'The Painter', made a major discovery!
Thanks to Somerville College and the Griffith Institute, University of Oxford, and the Peggy joy Egyptology Library, for generously sharing images of artwork by Amelia Edwards.