The Al-Hamdiya Necropolis
In 2021, the Egypt Exploration Society has awarded Mohamed Hussein Ahmed a Centenary Award to continue the survey and documentation of the cemetery at Al-Hamdiya (northeast of Sohag) and to preserve and protect the decorated rock-cut tombs located there.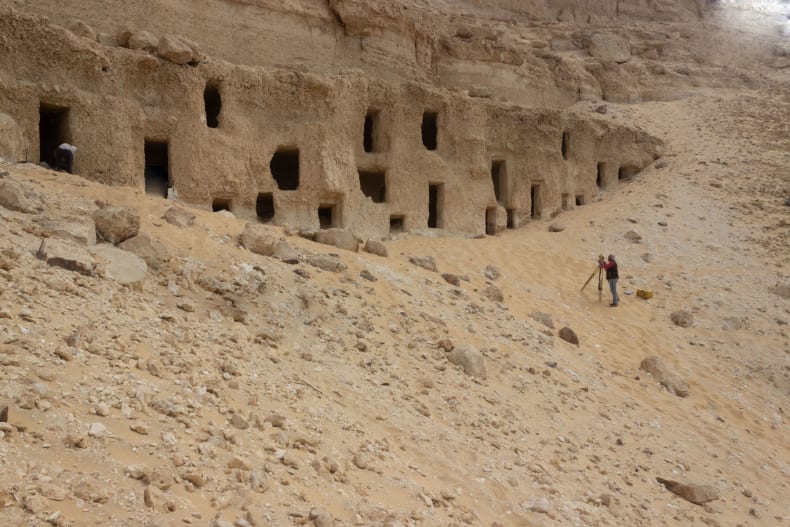 Surveying the rock-cut tombs in area C of the cemetery of Al-Hamdiya
Hamdiya is part of the cemetery of the 9th nome of Upper Egypt, located roughly 2 km south of the village of Khazandaria on the east bank of the Nile, and about 20 km north of Akhmim. The area consists of a steep limestone cliff with areas of wind-blown sand covering the Gebel. It has never been previously surveyed or studied in detail, save for a preliminary investigation showing that the site consists of at least 300 rock-cut tombs, with even more on the lower terrace. Most of these tombs are undecorated, save for two that still have scenes of butchery, marshes, and offerings, as well as some texts.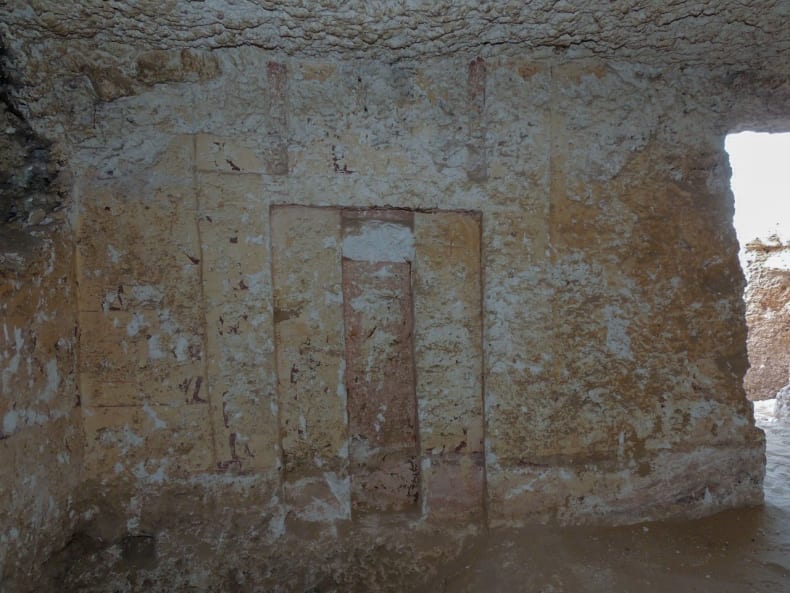 Decorated false door from tomb NH. B-36
The area was divided into four equal parts, and each tomb has been numbered according to the area in which it is located (A, B, C, and D). Discoveries so far include small, spherical vessels with remains of yellowish paint on the outside, small-sized alabaster vessels, as well as animal remains from food offerings. A round-shaped metal mirror was discovered in the tomb NH. A-21 dated to the end of the Old Kingdom (c. 2160 BCE).
Alabaster vessels and a bronze mirror discovered in NH. A-21
In the area of cemetery C, small pieces of limestone have been found with the remains of inscriptions that may represent funerary paintings of the tomb owners at the end of the 6th Dynasty. The name of the goddess Hathor has been found along with depictions of an individual with an incomplete title possibly related to the royal palace. This latter evidence may indicate the existence of a group of royal workshops or a settlement in the area during the Old Kingdom.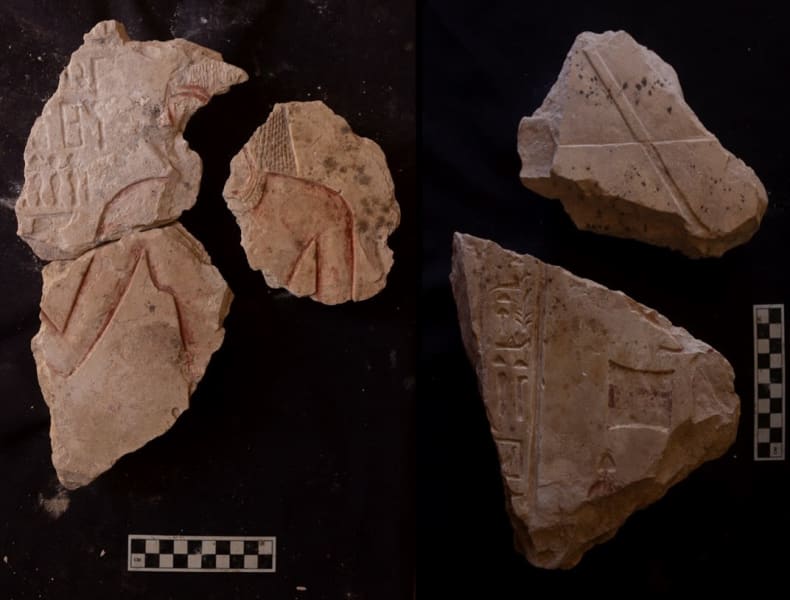 Fragments of limestone with inscriptions from shaft B in NH. C-92