Temple Ritual at Abydos, by Prof Rosalie David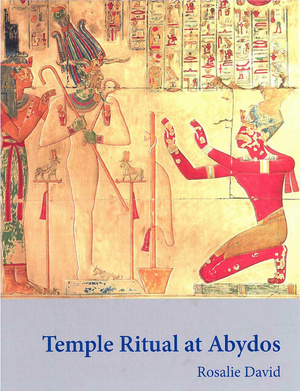 We know many people have been waiting for this title and we too have been looking forward to it a great deal. When Prof David approached us last year with the idea of a revised and expanded edition of her classic "Temple Ritual at Abydos" (or "A Guide to Religious Ritual at Abydos", as the last edition of 1981 was titled), it became clear very quickly that we'd have a winner on our hands. It is a title that had long been out of print, that tied in neatly with the EES' long association with the site of Abydos, going back to the earliest years of the last century, and that would help to make more accessible one of the most famous monuments of the New Kingdom.
We worked hard over the summer to pull the volume together: Prof David added the complete translations and transliterations to the ritual inscriptions and revised the text; we selected images from the EES archives and especially from the 1930-50s Calverley & Broome folios with their magnificent watercolours (a big thank you is due here to the Oriental Institute, University of Chicago for their support); followed by weeks of typesetting, layouting, proof-reading and more layouting.
The result is one the most ambitious volumes the EES has realised in some time and one of the most visually appealing too. On 392 pages you'll find numerous line drawings, many full-colour reproductions of the scenes of ritual and sacrifice from the temple walls, and photographs from our archives.
Now available in our shop to order