MESA Scheme Success!
As reported in 2020, the Journal of Egyptian Archaeology, with the financial support of the EES giving circle donors, launched the Mentoring for Egyptian and Sudanese Authors (MESA) scheme to pair Egyptian and Sudanese authors, whose articles and research demonstrated great potential, with senior international experts who would provide mentoring to bring the articles to a publication standard in terms of scientific rigour and academic writing style.
We are pleased to report that the first two papers which passed through the MESA scheme, by Abir Enany and co-authors Hanaa A. Al-Gaoudi and Nermin Aly, have now been published on the online platform of the JEA. They will be published in print in JEA 107 (due to subscribers in December 2021). Following up on the success of these first two mentorships, we have recently commenced a third MESA mentorship – we hope to see that article in JEA 108 (due December 2022).
JEA Editor-in-Chief Dr Claudia Näser and Managing Editor Dr Stephanie Boonstra want to extend their gratitude to the MESA mentors and authors, and of course to the generosity of the EES giving circle members who made this scheme possible.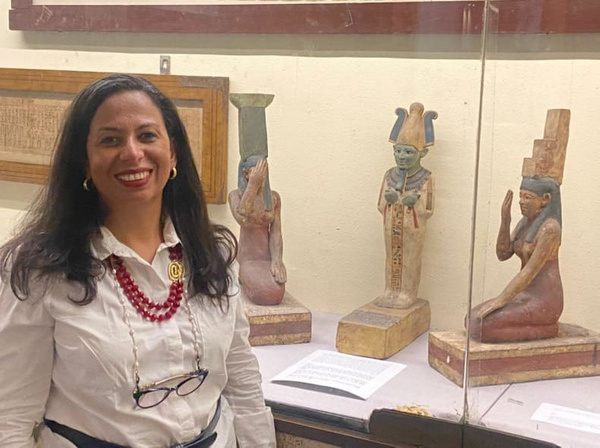 MESA author Abir Enany with one of the Osirian statuettes from her research
If you're passionate about Egyptian heritage and want to ensure that we can pass on the training and resources necessary for its preservation to future generations, then your participation in one of our Giving Circles could be the perfect way to show this.
To subscribe to the JEA online, please become an EES member here and select the JEA-online or JEA-combo add-on. These add-ons to your standard membership will give access to the JEA-online for the subscription year (i.e. until 31st March 2022).
If you are already a member and wish to purchase the JEA-online outside of your usual subscription renewal, then you should contact us for details.