Lessons in knowledge exchange
To inspire the next generation of scholars and members, the Egypt Exploration Society is developing a new range of educational resources aimed at educators working with children aged 7-11 years old. In order to create these resources, four Egyptian Egyptologists visited the EES London Office over September 2022 to work within collections held at the EES and the Petrie Museum of Egyptian and Sudanese Archaeology (UCL), as well as with other partners around the UK. Ahmed Mansour (Bibliotheca Alexandrina), Mostafa Tolba (German Archaeological Institute in Cairo), Noura Seada (October 6 University), and Zeinab Mohamed (Grand Egyptian Museum) were able to visit the UK thanks to the generous support of the British Council.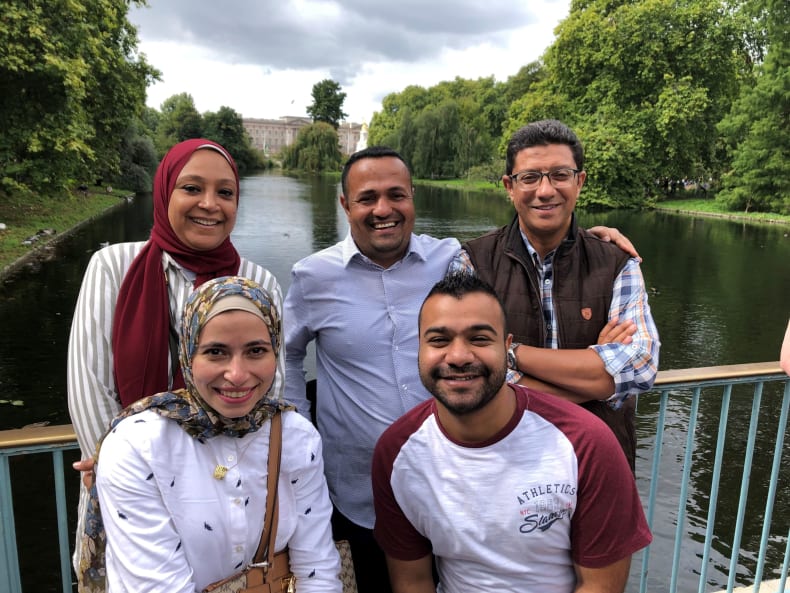 The 2022 EES Scholars with Essam Nagy (EES Fieldwork and Engagement Manager) at St James's Park during a tour of London
The visiting scholars worked on resources covering daily life, faith and pharaohs, art and architecture, and the discovery of ancient Egypt. Their aim was to offer a personal lens on the subjects alongside ethical notes for educators, while also inspiring and actively engaging children in their learning. To this end, each scholar produced an adaptable PowerPoint, up to four subject specific information sheets, an image repository with catalogue, and activity sheets. These will be formatted over the next 6-9 months and translated into English and Arabic before being made available via the EES website and in printed packs for circulation in Egypt via the EES, their own institutions, and the British Council. These will be launched alongside a new family adventure trail around London exploring the role that ancient Egypt has played in the city.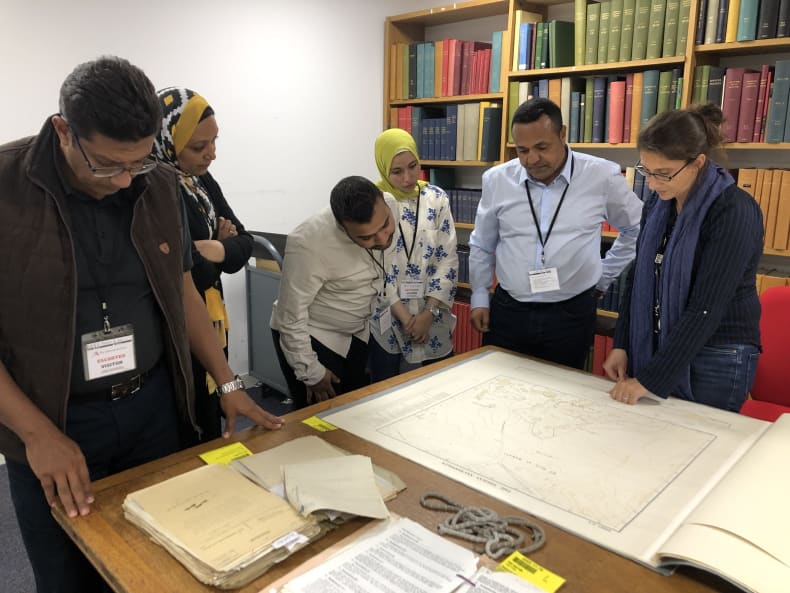 The 2022 EES Scholars visiting the National Archives with Dr Juliette Desplat (Head of Modern Collections)
During their visit, the scholars worked closely with colleagues in partner institutions to present their knowledge in accessible and engaging ways. By combining several different approaches, as well as taking advice from the EES Schools Network, the scholars were able to produce material appropriate for use in UK schools. This was not a traditional training placement, but an opportunity to gain transferable skills from both sides – a collaborative approach that offers opportunities to all involved. As well as visits to UK institutions, the scholars were also able to see how heritage is managed in the UK by visiting Stonehenge and Bath and various sites around London. Naturally, the passing of Her Majesty the Queen (and several rail strikes) caused some issues with the schedule, but we were pleased that most visits were able to proceed.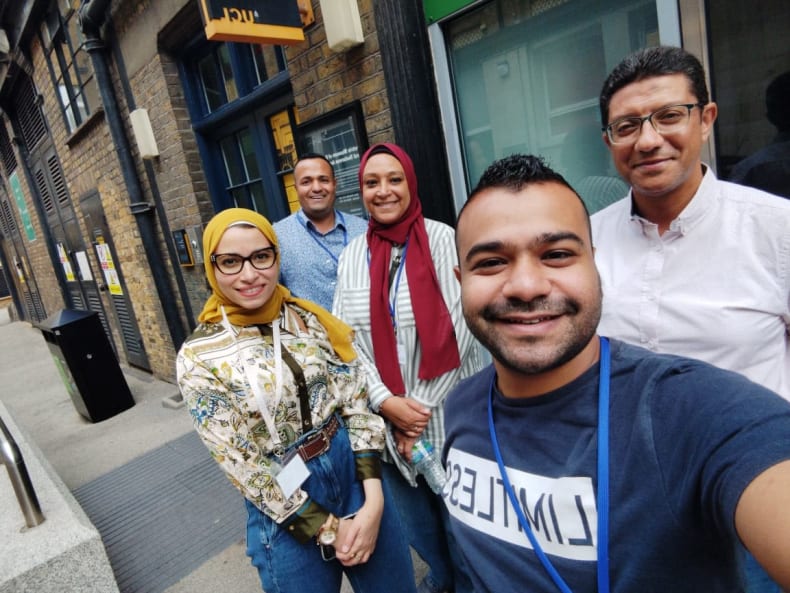 The 2022 EES Scholars arriving at the Petrie Museum of Egyptian and Sudanese Archaeology to begin research for their educational resources
The Egypt Exploration Society would like to thank those that supported this project including: Anna Garnett (Petrie Museum of Egyptian and Sudanese Archaeology, UCL), Campbell Price (Manchester Museum), Jenny Cromwell (Manchester Metropolitan University), Juliette Desplat (The National Archives), Elizabeth Fleming and Daniela Rosenow (Griffith Institute, University of Oxford), Jennifer Turner (Department of Egypt and Sudan, British Museum), Sarah Saunders – Martin Payne – and Alice Kirk (Education and Engagement, British Museum), Ben Henry (Faculty of Classics, University of Oxford), Ken Griffin (The Egypt Centre, Swansea University), Chris Naunton (Robert Anderson Trust), and all those members that met the scholars during a visit to the EES London Office.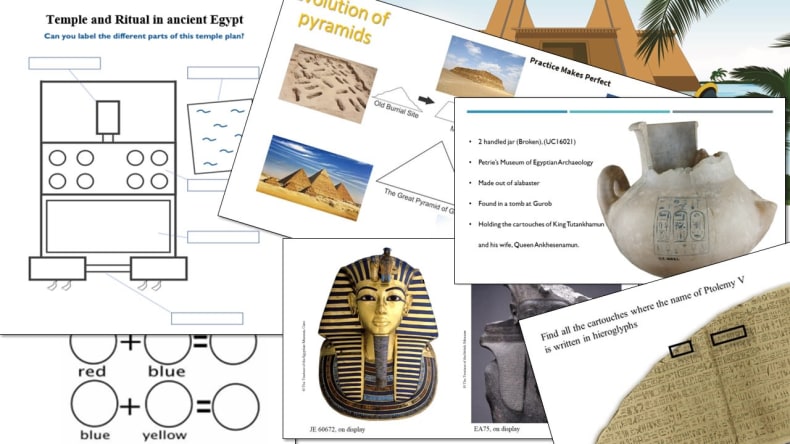 Some of the resources created during their stay which will be made available in 2023
Especial thanks are owed to the Essex Egyptology Group for sponsoring a visit to Manchester and, of course, to the British Council for supporting this project as well as the previous Egyptological Archives Skills School that led to it. In particular, the EES would like to thank Cathy Costain for her untiring support and friendship at the British Council through both the Skills School and the scholarship programme in 2022.
In this year of Egyptological anniversaries, the Egypt Exploration Society is pleased to have played a role in engaging future generations and demonstrating the close relationship between UK institutions and Egypt through knowledge exchange and partnership.
Supported by: