Imbaba Governorate Prehistoric Survey
The Imbaba Governorate Prehistoric Survey began as a pilot project in 2013. The survey area includes the registered site of Merimde Beni Salama, which is best known for its extensive Neolithic remains, first identified by Hermann Junker in January 1928 and excavated until 1939, then subsequently investigated in the 1970s-80s and early 1990s by German and Egyptian missions. Merimde Beni Salama is unique in that it is the earliest north African site with evidence for domesticated plants and animals, within a village environment with domestic structures. The project is concerned with looking at Merimde Beni Salama within its wider regional context with the aims of reconstructing the palaeoenvironment in prehistoric times, and also at assessing the evidence for other prehistoric sites within the wider area.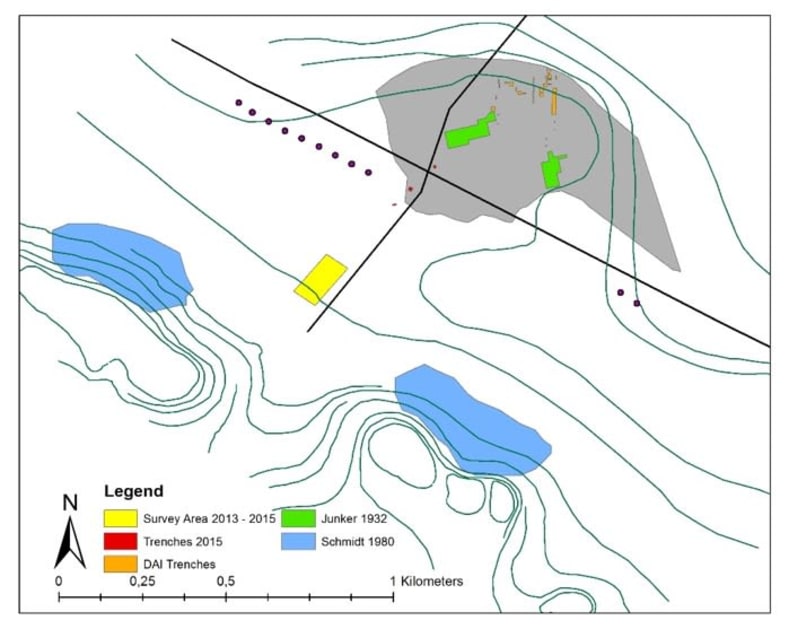 Project achievements
Although Merimde Beni Salama has been subject to much investigation and has produced several monographs, even during the first season of the project in 2013, the results suggested that there was still much to be discovered about the prehistory of the site. During the pilot project, an environment coring survey began, which has already contributed value data as to the geological profile across the site and down into the floodplain, as well as confirming through a geophysical survey (geomagnetic) that were still substantial areas of the (presumably) Neolithic settlement that have never been excavated.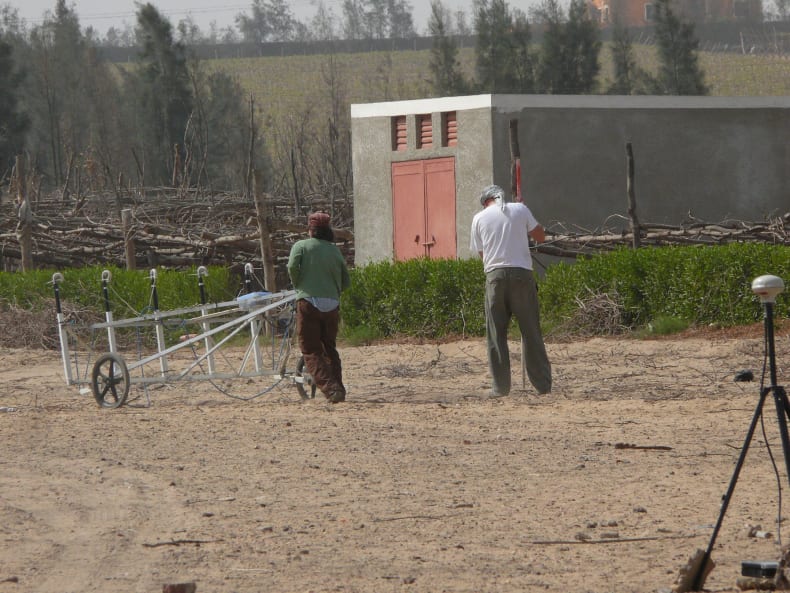 The geophysical survey of the site in 2013

Download the geomagnetic survey plan here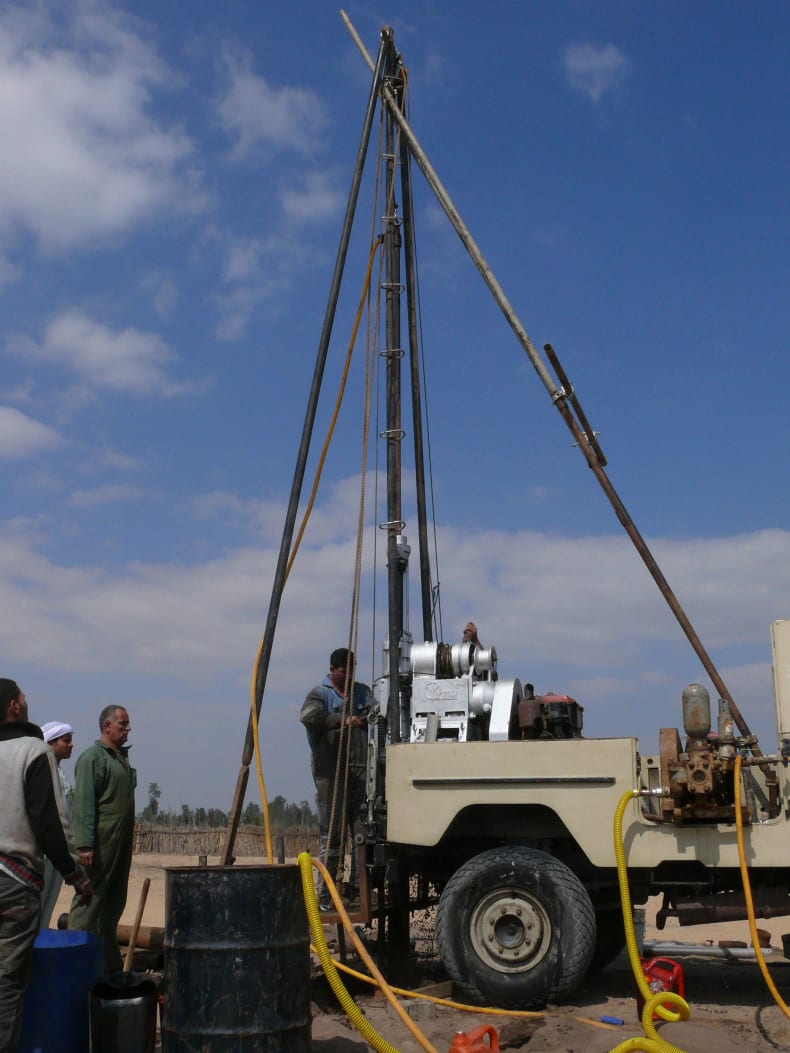 Environmental coring in 2013
Rescue and training: The Wadi el-Gamal Rescue Project
In 2015 test trenches on the Wadi el-Gamal Pleistocene terraces, adjacent to the known Neolithic site, revealed in situ Middle Palaeolithic as well as Neolithic contexts. A long rescue season in winter-spring of 2016 presented a final opportunity to work in this specific area, and the discovery of postholes and numerous hearths showed that during the Neolithic, local groups had erected structures on the Wadi el-Gamal, and were probably hunting as well as preparing and eating food on this high ground. Examination of the Middle Palaeolithic material proved that chipped stone artefacts were being made up on the Wadi by the groups who moved through the area, possibly as early as 120,000 years ago. Our colleagues from the Ministry of Antiquities played a major part in the success of this project, and all benefited for training in prehistoric contexts, artefacts, as well as single context excavation methods.

Wadi el-Gamal Pleistocene terraces, looking toward the Neolithic site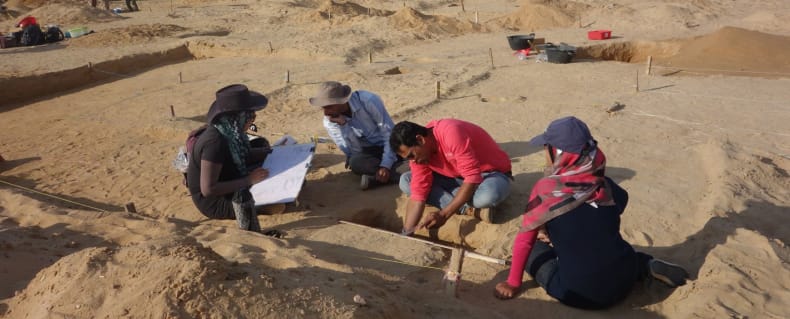 Inspectors working in the wadi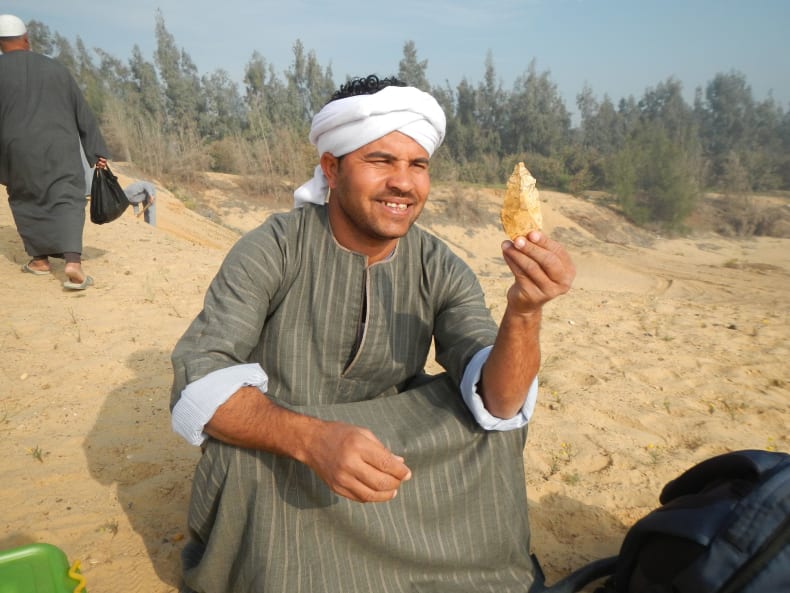 Rais Omer Farouk holding a Middle Paleolithic Levallois pointed flake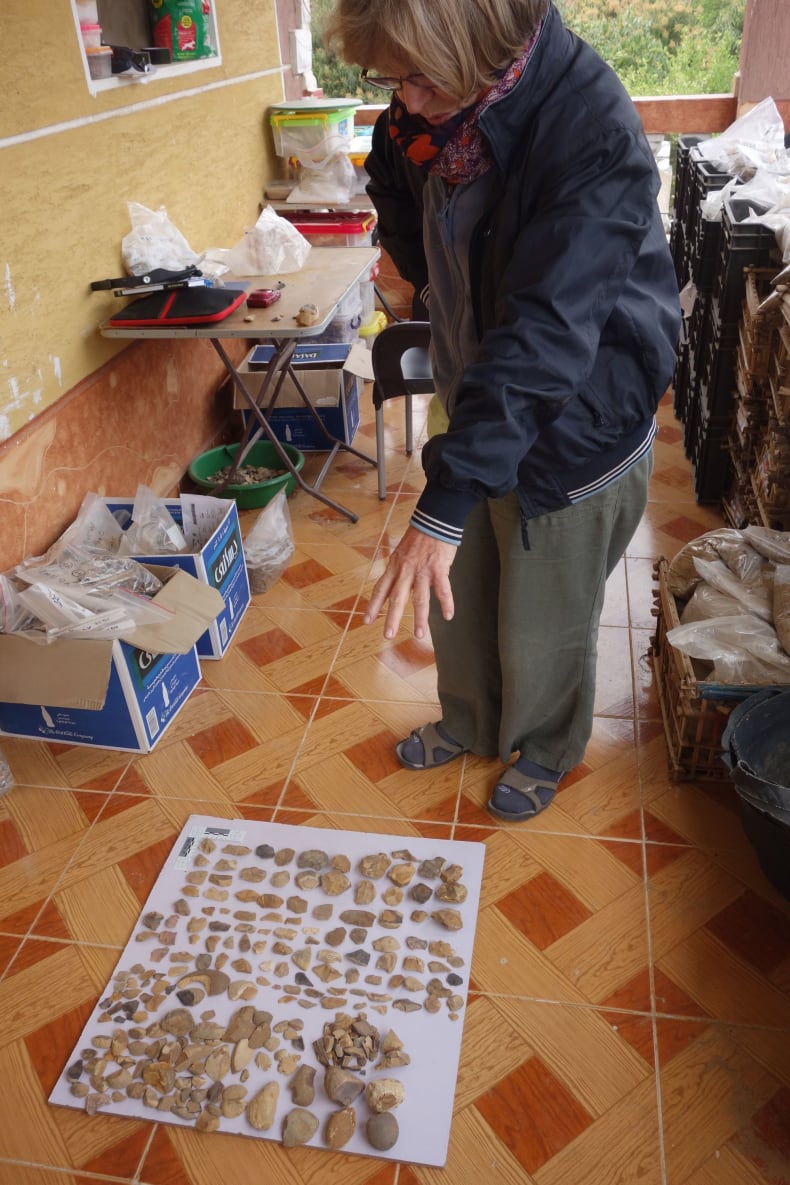 Dr Norah Moloney sorting Middle Palaeolithic chipped stone artefacts from a single context
Linked Projects
Site Management at Merimde Beni Salama
Generously supported by the American Research Center in Egypt's Antiquities' Endowment Fund, it has been possible to build a low protective wall around the main registered antiquities' land at Merimde Beni Salama, as well as a small workroom and shelter for the site guardians of the Ministry of Antiquities. This project has afforded the site protection, without restricting pedestrian access on the site. In addition, it has generated a good deal of interested in the site, and what it represents.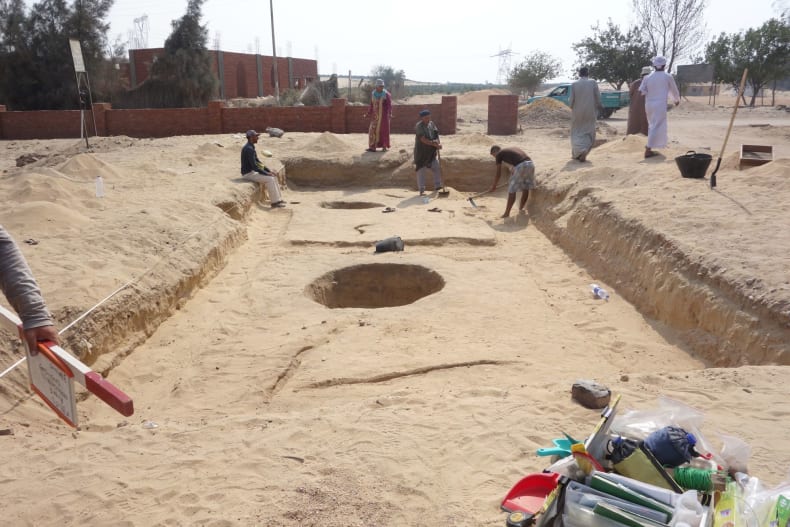 Excavating the foundations for the Guardian's hut
Egypt's Earliest Heritage (Newton Institutional Links' Programme)
From 2017-2019 this project is focussing on valorising the importance of prehistoric and early historic sites in Egypt. Merimde Beni Salama is one of the key sites within the project and in spring 2018 a training phase is planned for inspectors from the Ministry of Antiquities having the opportunity to gain new (or expand their existing) knowledge on a range of prehistoric finds, contexts, and also current research hypotheses; heritage management within prehistoric and early historic contexts are central to this project and training. This project is co-directed by Jo Rowland (University of Edinburgh) and Fekri Hassan (French University in Egypt).

Archival Research: The Neolithic of the Nile Delta
From 2012-2016 an archival project collated data from museum collections worldwide with finds from Merimde Beni Salama. All finds photographed and documented are available at the 'repository' website below. This project also enabled new archaeobotanical analysis, residue analysis on ceramics from the site (with Dr Julie Dunne, University of Bristol), and the first ever AMS radiocarbon dates to contribute to the chronology of the Neolithic settlement.
https://www.topoi.org/project/a-2-4/
http://repository.edition-topoi.org/collection/MRMD/
http://samlingar.varldskulturmuseerna.se/unlocking-neolithic-foods/
http://samlingar.varldskulturmuseerna.se/forhistoriska-froer-under-luppen/
Team Specialists
Dr Joanne Rowland, University of Edinburgh, Director, Ceramics
Dr Mennat-Allah El Dorry, Archaeobotany
Prof. Mohamed Hamdan, Cairo University, Geology and Environmental Survey
Cornelius Meyer and Dana Pilz, Eastern Atlas Berlin (2013), Geophysical Survey
Kris Strutt, Archaeological Prospection Services of Southampton (2015), Geophysical Survey
Dr Giulio Lucarini, University of Cambridge, Chipped Stone Artefacts and Worked Stone Objects
Dr Norah Moloney, University College London, Chipped Stone Artefacts (Middle Palaeolithic)
Dr Geoffrey Tassie, University of Winchester, Chipped Stone Artefacts, Small Finds
Dr Louise Bertini, American Research Center in Egypt, Zooarchaeology
Our supporters
2013 pilot project: The Fritz Thyssen Stiftung
2014-15 excavation and Archival project 'The Neolithic of the Nile Delta': The TOPOI Excellence Cluster of the Freie Universität Berlin
2014-15 geophysical survey: the Egypt Exploration Society
2015 on-site analysis: the Delta Survey Fund (EES)
2014-16 Site Management of Merimde Beni Salama project: The American Research Center in Egypt's Antiquities' Endowment Fund
2016 The Wadi el-Gamal Rescue Project: The National Geographic Society, GEFNE165-16 and The American Research Center in Egypt's Antiquities' Endowment Fund
2017-19 Earliest Egypt: Conservation, Management, Valorisation and Capacity Building: Newton Institutional Links Programme of the British Council
Further reading
Bernbeck, R., Cubasch, U., Gass, A., Kaiser, E., Parzinger, H., Pollock, S., Rowland, J.M., Russo, E., Schier, W. and Tassie, G. 2016. 'Notes for a Political Ecology of Non-Sedentary People', in Grasshoff, G. and Meyer, M. (eds.) ETopoi Journal for Ancient Studies. Special Volume 6 (2016): Space and Knowledge. Topoi Research Group Articles, 45-73.
Rowland, J. 2015. 'Prehistoric groups along the western Nile Delta', Egyptian Archaeology 47, 37-39.
Rowland, J. M. & Bertini, L.C. 2016. 'The Neolithic within the context of northern Egypt: New results and perspectives from Merimde Beni Salama', in Quaternary International, http://dx.doi.org/10.1016/j.quaint.2016.02.014
Rowland, J. M. & Tassie, G. J. 2014. 'Prehistoric sites along the edge of the Western Nile Delta: Report on the results of the Imbaba Prehistoric Survey 2013-14', Journal of Egyptian Archaeology 100, 56-71.
Further information about sample finds analysis: https://www.medafrica-cam.org/