Egyptian Archaeology Skills School: Can you dig it?
Early last month, the Egypt Exploration Society hosted its first London-based archaeological skills school. Designed by Kelly Accetta, a PhD student at the University of Cambridge, it brought together experts in the field and students in order to kick-start their careers in Egyptian archaeology. Here Kelly reports on her experiences of running and attending the Society's first Egyptian Archaeology Skills School.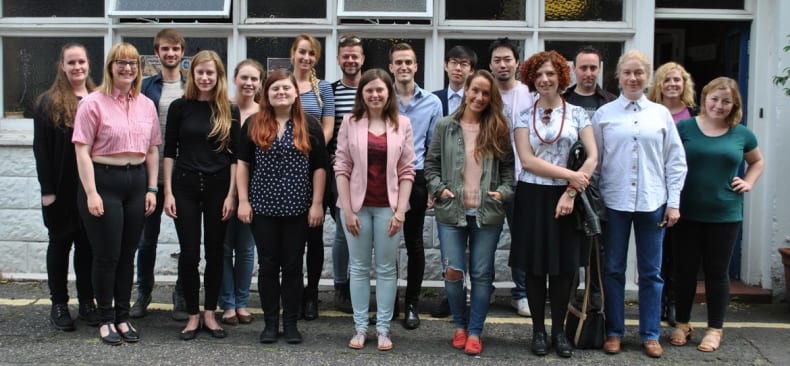 The 2016 EASS students pose outside the EES with Dr Sarah Doherty and Anna Garnett
Landing a position on an excavation in Egypt can be tough – filled with determination but without the necessary skills can make it an unattainable goal. Trying for years to get onto field-schools in Egypt which were both expensive and unreliable (usually due to security permissions being withheld), I approached the Egypt Exploration Society early in 2016 to see what they could do. With the help and support of Carl Graves and Dr Chris Naunton, I was able to propose a week-long schedule covering the very basics of Egyptian archaeology from preparation and selection of sites, through excavation methods and recording techniques, onto site management, publication and dissemination.
Twelve experts from the discipline kindly offered to present in this intensive five-day school which attracted 15 students of Egyptology from the UK and Europe. Tickets sold in just one week of their launch and a healthy waiting list is encouragement to run the school again.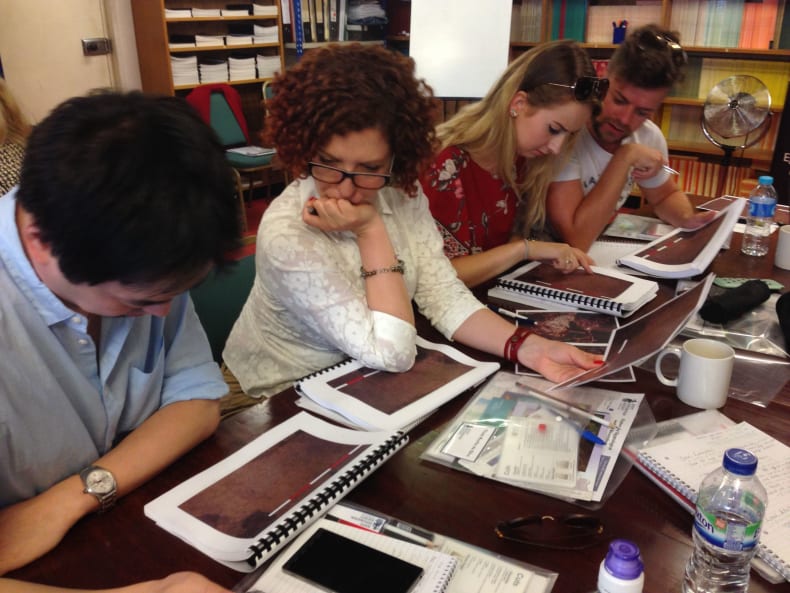 Students spotting changes in soil in order to find preserved mudbricks
The course's broad introduction to modern Egyptian archaeology enabled students to identify skills they could pursue to become more attractive candidates for future fieldwork opportunities, as well as open up networking opportunities with the speakers and other colleagues.
Feedback from the course showed that students appreciated the variety of sessions, many of which incorporated a practical aspect after a talk on theoretical background. Some highlights from the sessions included: Dr Jeffrey Spencer challenging the students to identify areas of archaeological interest on satellite photographs; Liz Jones bringing surveying equipment for practical experience of setting up and operating; Dr Hannah Pethen provided an easy-to-follow step-by-step manual for creating maps of the Nile valley in QGIS; Dr Anna Stevens had the students set up excavation units and draw top plans in a local park; Dr Gemma Tully used the galleries of the British Museum as an exercise on analyzing bias in heritage management; Sarah Chapman introduced us to the basics of on-site photography and photogrammetry; and Dr Sarah Doherty and Anna Garnett brought in pottery sherds for the students to sort, record, and draw.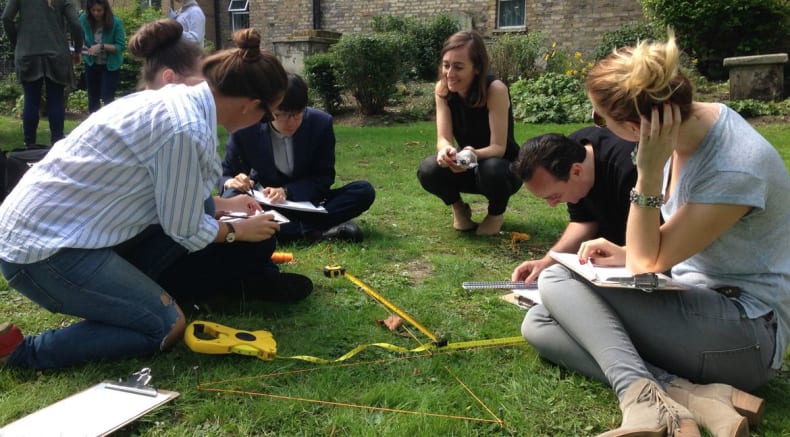 Dr Anna Stevens helps the students lay out trenches in a local London park
During the week, there were several chances for the students to informally chat with the speakers, including a welcome drinks and a course dinner, both held at the London office. At these events, students discussed their interests and enquired about further avenues to practice their newly acquired skills.
At the end of the Skills School, the students were invited to attend the Society's Current British Archaeology in Egypt (CBAE) conference, where many of the presentations given by the EES field directors showed the direct impact archaeological skills make in the investigation and recording of sites.
The success of the first Egyptian Archaeology Skills School has encouraged me to assist the EES in holding it annually, and to expand on the concept by offering more in-depth specific instruction on the various topics. Everyone involved agreed that the course filled a long-empty void, and that introducing the next generation of Egyptologists – perhaps future EES field directors! – to the skills needed in current Egyptian archaeology directly helps to fulfil the Society's mission in Egypt today.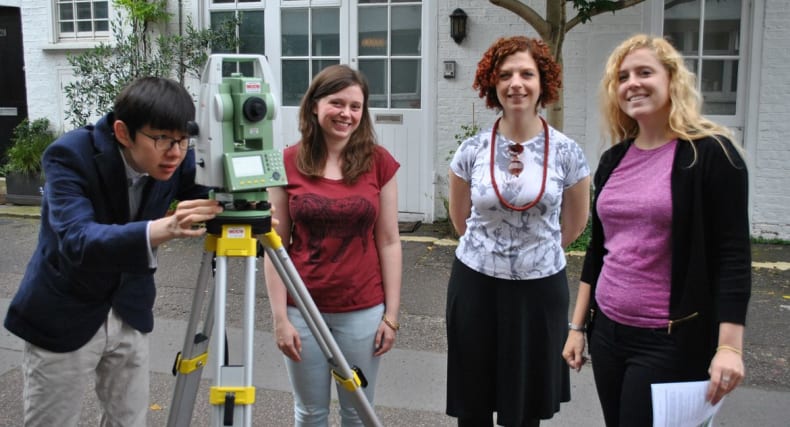 Kelly (far right) helps other students set up the total station in Doughty Mews
Kelly and the EES would like to extend their thanks and appreciation to the students that participated in the school, and of course to the speakers for giving their time and expertise:
Dr Chris Naunton, Dr Jeffrey Spencer, Liz Jones, Dr Hannah Pethen, Dr Anna Stevens, Sarah Chapman, Dr Gemma Tully, Will Schenck, Dr Sarah Doherty, Anna Garnett, Dr Jan Geisbusch, and Carl Graves.