Annual General Meeting (AGM) 2022
With the likelihood of continuing covid infections in the winter, and to enable our increasing international membership to take part, we will hold our AGM both online and in-person on 26th November 2022. The physical meeting will be held at the Society's London Office (3 Doughty Mews, London, WC1N 2PG) and will have a limited capacity. Here we provide details of the Board's recommendations for election as Trustees and some further details for the event.
Trustee recommendations for the Annual General Meeting
At the AGM on 26th November 2022, Anandh Owen and Dr Sami Sadek are retiring having served 6 years and are therefore not eligible for re-election. Dr Penelope Wilson will retire by rotation and stand for re-election. Dr Violaine Chauvet and Luke Purser resigned within the year. Dr Jennifer Cromwell was appointed a Trustee by the Board on 18 February 2022 and under Article 35(2) is required to retire at the AGM; she also offers herself for re-election. The Board has decided to extend Dr Katharina Zinn's term of office for a final year under Article 37A in order to assist with the ongoing discussions about the Society's collections and their relocation during the redevelopment of its premises. The Board recommend Roba Ashraf Abdelbadie and Abeer Eladany to fill two vacancies arising.
Short biographies of the proposed new Trustees are set out below.
To receive your ticket to attend the virtual AGM please book online (bookings opening soon). If you wish to attend in-person, then please book here (coming soon). Please note that you must be a current member of the Egypt Exploration Society to attend the AGM and there are limited tickets available for the in-person meeting. Proxy voting forms will be mailed out in October 2022 though online voting will be possible during the meeting for those in virtual attendance.
---
Members' right to stand for election
Any member is entitled to stand for election as a Trustee at the AGM in accordance with the provisions of Article 33 of the Society's Articles of Association, namely by giving the Society a notice signed by 1) the member who wishes to be appointed and 2) another member who is entitled to vote at the AGM, stating that member's intention to propose the first member as a Trustee. The notice must contain the name, any former name, service address, country or state (or part of the UK) in which he/she is usually resident, nationality, business occupation (if any) and date of birth of the member to be proposed; this is the information required to be filed at Companies House about directors. To be valid the notice must be received by the Society by postal mail not less than 70 clear days before the date of the AGM, i.e. by Friday 16th September 2022.
Trustees of the EES are unpaid and must be prepared to attend (in person or virtually) Board meetings and the meetings of any Committees on which they serve, and to give sufficient time to prepare themselves to play a full part in those meetings.
---
The Board's recommendations for Trustees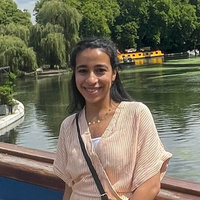 Dr Roba Ashraf Abdelbadie
Roba is a Lecturer in Accounting at the University of York and holds a PhD in Accounting & Finance from Newcastle University, as well as an MSc in Accounting, Finance, and Management from the University of Bristol. She completed her BSc in Accountancy at Asyut University, Egypt. In June 2021 Roba was awarded an Associate Fellowship of the Higher Education Academy. Her own research projects offer valuable insights suggesting that policymakers and regulators should consider the role of social connections between institutions in sustaining their financial stabilities.
Roba has lived in the UK since 2015 and is passionate about archaeology, Egyptology, and Islamic art. She is concerned that heritage remains at extreme risk in many areas of Egypt and serious action should be taken to save it. Roba was introduced to the EES during the global pandemic and was impressed with the Society's commitment to explore and record the cultural heritage of Egypt. She is keen to dedicate her knowledge and expertise to supporting the EES.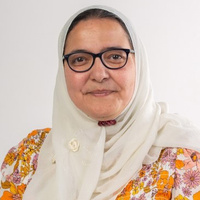 Dr Abeer Eladany
Abeer graduated from the Faculty of Archaeology, Cairo University, and then gained a postgraduate diploma and Pre-MSc degree from the Faculty of Tourism, Helwan University. She worked at the Egyptian Museum, Cairo, for more than 10 years before travelling to Italy to study conservation of ceramics in Florence. She then joined the KNH Centre, University of Manchester, to study Biomedical and Forensic Studies in Egyptology where she achieved her MSc and PhD. In 2015, Abeer gained an MLitt in Museum Studies from the University of Aberdeen. In her current role as a curatorial assistant at the University of Aberdeen's Museums and Special Collections, she promotes wider access to the museum collections. Abeer's research interests are mainly related to human remains, the history of Egyptology, and Museology (particularly Ethics and Repatriation), and she has joined archaeological excavations in Egypt and in Scotland.
Abeer is an active volunteer for a wide range of charities ranging from community projects to heritage groups in the UK and is currently a Trustee for SHMU, a community media organisation and one of the core cultural organisations in Aberdeen. She is also a director on the Board of Trustees of Soundfestival a new music incubator based in north-east Scotland encouraging new music creation and discovery.
Abeer is a member of the Slavery, Empire and Scottish Museums steering group that has recently published recommendations following a large public consultation regarding how Scotland's existing and future museum collections and spaces can better recognise and represent a more accurate portrayal of Scotland's colonial and slavery history.
The Board's nominees for re-election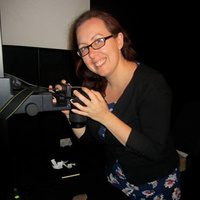 Dr Jennifer Cromwell
Jennifer is Senior Lecturer in Ancient History at Manchester Metropolitan University. She studied Egyptology at the University of Liverpool for her BA, MA, and PhD (focussing on Coptic legal documents from western Thebes in the 8th century CE), and before joining MMU in 2018 she held research positions at the University of Oxford, Macquarie University (Sydney), the University of Copenhagen, as well as the British Museum. Her research focusses on social and economic life in Egypt during the late 6th to 8th centuries CE, in villages and monasteries, and the study of Coptic papyri. From 2021–23 she is the principal investigator on a UK Research Institute-funded project, 'Ancient History, Contemporary Belonging' (with sociologist Dr Caitlin Nunn), which works with Manchester Museum, Sheba Arts, and migrant-background youth researchers (aged 16–24) in Greater Manchester to creatively explore the forced migration of ancient historical objects and what it means to 'belong'.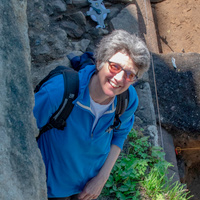 Dr Penelope Wilson
Penny is an Egyptologist with a specialist interest in both philological research of Ptolemaic hieroglyphic texts and temples and Egyptian settlement archaeology particularly in the Northern Nile Delta region. She studied at Liverpool University for both her BA and PhD (on the Edfu Temple texts) and then worked as Assistant Keeper in the Antiquities Department of the Fitzwilliam Museum, Cambridge. Penny is now Associate Professor in Egyptian Archaeology in the Department of Archaeology, Durham University, having joined the Department in 1999. She has worked on excavations and projects in Egypt including at Qasr Ibrim as epigrapher, at Naukratis, Tell el Balamun, Ashmunein, North Sinai and at Zawiyet Umm el Rakham with the Liverpool University team. As Field Director at the ancient capital city site of Sais (EES and AHRC funded) she has helped to uncover the archaeological potential of a highly important but 'lost' site. Penny is also Director of the Special British Academy Project the Delta Survey documenting many otherwise unknown sites in the Nile Delta. She joined the EES when at school and is honoured to serve as a Trustee when the Society looks forward to an interesting and dynamic future.