Local Ambassador Programme
Since our founding in 1882, one of our greatest strengths has been our membership – our supporters have helped us to explore sites and monuments across Egypt and Sudan, promote the importance of protecting and preserving Egypt's unique heritage, offer training and education for future generations of archaeologists, and report the results of our work in scientific publications. Their tireless enthusiasm and commitment to our mission continues to make us the dynamic and energetic Society we are today.
During the 2017 AGM we announced that a new scheme, the Local Ambassador Programme, would be trialled during early 2018. Our main aim with this Programme is to spread awareness of the Society and the work that members support. As the only UK charity to combine archaeological fieldwork with a busy publications programme, we remain global leaders in the exploration and preservation of Egypt's unique heritage. Broadening our support ensures that we continue to maintain our impact in Egyptology. The Programme aims to recreate the level of involvement that initially furthered the aims of the Egypt Exploration Fund when we were first founded by Amelia Edwards, when a network of Local Honorary Secretaries was recruited, to communicate the values of our work among their own connections, recruit members and encourage donations to the Fund.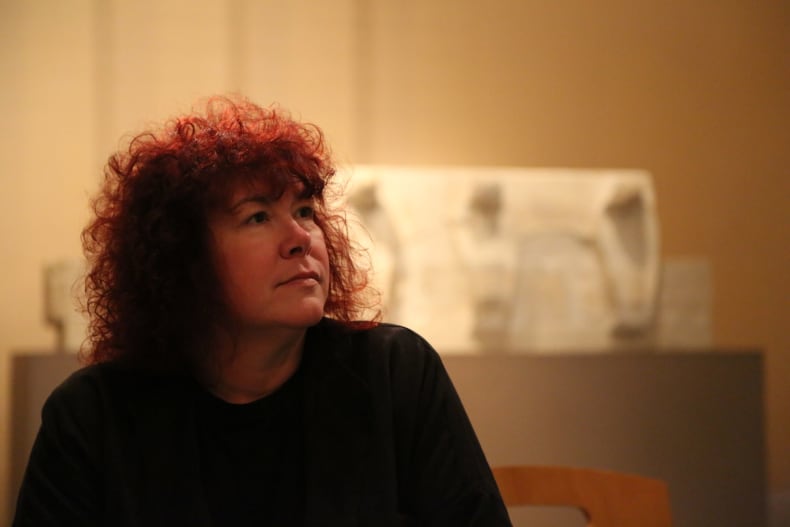 Prof Joann Fletcher at the Imhotep Museum, Saqqara, © Dr Amr Aboulfath.
The Local Ambassador Programme is a new and exciting opportunity to bring together existing members with potential supporters around the country, building on the legacy of Amelia Edwards by inviting all who share our passion to join us in preserving Egypt's precious heritage.
We initiated a small pilot run in January 2018. Since then, three Local Ambassadors have been working tirelessly to promote the Society in their local areas. The Programme is kindly supported and spearheaded by Professor Joann Fletcher (University of York). The following people have been involved so far:
Professor Joann Fletcher (Yorkshire and the North-West)
Vanessa Foott (Bristol and Manchester)
Ildiko Kalnoky (Leeds)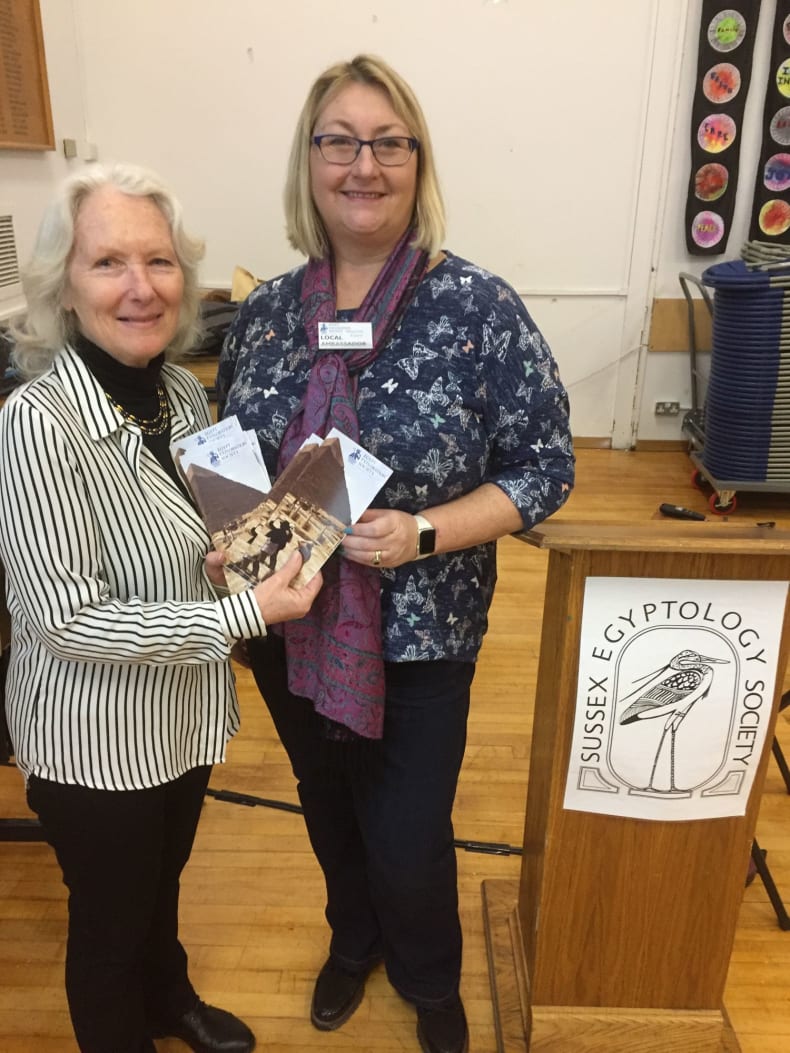 Left: Vanessa Foott with Janet Shepherd, Chair of Sussex Egyptology Society at a recent meeting.
Together they have distributed hundreds of leaflets and spread the word about the EES around Egyptological societies, Local History groups, students, Women's Institute meetings, Rotary clubs, literary festivals, local museums and various branches of the media. To our pleasant surprise we have already begun recruiting new members as a result of their efforts.
We have now put together a new welcome pack with everything a Local Ambassador would need to start spreading the word about the Society and our mission.
Packs include a t-shirt, leaflets, identification badge, stickers, pens, sign-up sheets for our e-newsletter and a welcome booklet. We are also planning an annual gathering of Ambassadors, led by Professor Joann Fletcher, to bring everyone together to share our latest news and messages and encourage each other to spread the word further.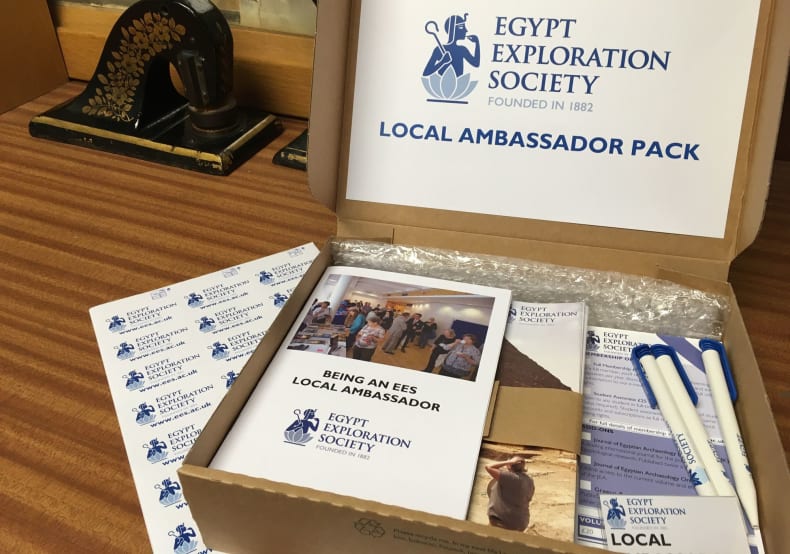 If you would like to apply to become a Local Ambassador, please let Carl Graves know on [email protected]. We ask for a donation of £5 to cover some costs of production of the pack, but hope that you will find your involvement in the Programme a rewarding experience and that you enjoy the opportunities for networking as one of our representatives
We recognise that not everyone can contribute every moment of spare time, but we are always grateful for whatever time you can spare and we look forward to welcoming you on-board to the Local Ambassador Programme in the summer!