Centenary Awards 2014
In March, we invited applications from early-career Egyptologists for grants from our Centenary Fund. This year, the Society was able to make a total of £6,000 available for these Awards, an increase of 50% on the previous year.
The Centenary Awards are intended to fund small research projects that would otherwise not be undertaken, and to provide not only funding but also valuable experience in planning and delivering a fieldwork or research project – usually in Egypt. Recipients are expected to share the results of their work online, and through the Egypt Exploration Society's publications and events programme. We had twenty-five applicants for the grants – an increase on the number in 2012, and the highest number for at least 10 years – and the quality of the proposals was extremely high. The Society's Fieldwork & Research Committee and Board of Trustees had a difficult job in deciding which of the wide range of interesting projects to fund, because, as ever, the available funds were not sufficient to support as many as we would have liked.
We are delighted to announce that awards will be made to fund the following two projects:
James Bennett – Survey and excavation of Tell Gumaiyima
Mohamed Megahed – Documentation of the pyramid complex of Djedkare in Saqqara

Left to right: James Bennett at work at Tell Timai, north-eastern Nile Delta; Mohamed Megahed deep in conversation with the late reis Ahmed El-Kereti at Abusir (photograph © Hana Vymazalova); EES members visiting the Djedkare complex at Saqqara in February 2014
We are very pleased to be able to fund James' and Mohamed's work, and look forward to sharing the results in due course. They follow in the footsteps of previous Award winners, many of whom have gone on to become distinguished Egyptologists and to hold senior positions at institutions around the world. We wish James and Mohamed the same success!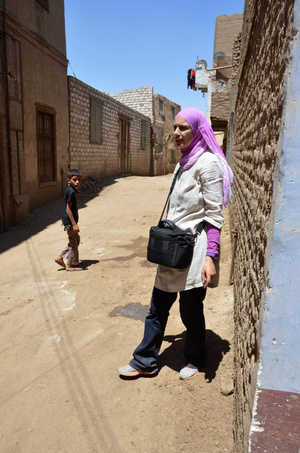 Society staff Dr Chris Naunton and Essam Nagy visited another award winner, Heba Abd El-Gawad, during her survey of El Minsha in Sohag Province, site of the ancient city of Ptolemaios Hermiou, in June 2014. The photo on the left was taken during that visit.
You can also read more about the work carried out by Hany el-Tayeb as a result of his 2012 Centenary Award in Egyptian Archaeology: The burial chamber of Rashepses at Saqqara in the latest Egyptian Archaeology.
The Society is committed to supporting the next generation of Egyptologists, through these awards and also bursaries to assist students attending the annual Current Research in Egyptology conference. We anticipate that the next round of Centenary Awards and the next EES Scholarships for Egyptian researchers will be advertised in spring 2015.